You don't know what it is, but you think you want one.
By Jon Peddie
Microsoft says holoportation is a new type of 3D capture technology that allows 3D models of people to be reconstructed, compressed, and transmitted anywhere in the world in real time— kind of a beam-me-up-Scotty thing. When combined with mixed reality displays such as Microsoft Hololens, it allows users to see, hear, and interact with remote participants in 3D as if they are actually present in the same physical space. All you need is a Hololens. Hmmm.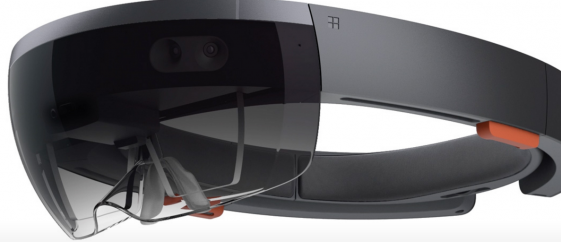 Microsoft has been masterful at showing what might be possible with Hololens. They also been masterful at pricing the development kit at $3,000, which will successfully keep the hackers away from it, unlike when Oculus priced the DK2 at $400. So basically, Microsoft can rig up any demo they want; who's going to check it?
The idea of a virtual telepresence isn't new, it's just re-labeled video conferencing with 3D images. VR transports you into a computer-generated world; AR keeps you in the current, real world. Telepresence sort of blends both and transports you, or your correspondent, into an alternate, semi-real-world environment. Think of it as a video conference call where you can continue the conversation as you walk (assuming no tethered cabling). Remember the rolling video screen?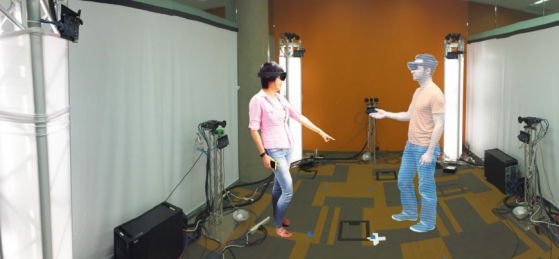 Last June, Microsoft showed some astounding, and largely faked, demos of its Hololens with imaginative (but phony) holograms. The company has now cranked up the marketing hype machine a bit more and named it Holoportation.
It uses several 3D cameras to capture a subject and creates a "temporally consistent model" that the company says can mimic the feeling of someone being in a room with you. During a TED talk, Alex Kipman used it to meet virtually with a colleague in front of a Mars backdrop.
This is a science project, out of Microsoft's research labs, and for reasons only known to Microsoft marketing executives, it is being portrayed as an almost-here product, which it is far from.
It requires a lot of supporting hardware, has limited range, and is little more than a proof of concept. But it is ridiculously compelling, and lights up one's imagination as to how it might be used for teleconferencing or video chat.
So, whereas I can criticize Microsoft for messing with consumers' expectations, setting the bar high, and possibly spoiling the market for the existing suppliers (which might be their marketing tactic, since there are 83 other suppliers), at the same time I can applaud them for being Xerox PARC-like and showing the future. Microsoft has never been an innovator or tech leader, but they've got so many damn smart people, this is something they can easily pull off. So I give it a like, with a wink.