Finished designs can be sent from the app to Sculpteo for 3D printing.
Autodesk has added to its 123D line of consumer-class design tools with a new app for making 3D characters.  123D Creature comes with built-in export to 3D printing service Sculpteo for making physical models.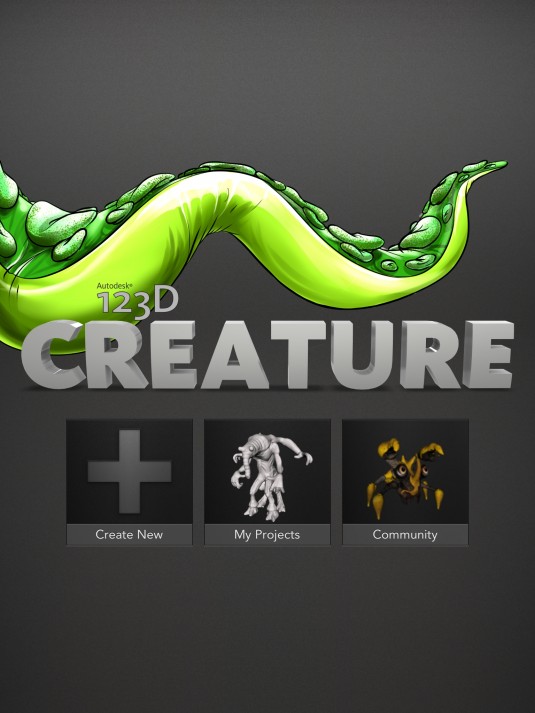 Making original characters with Autodesk 123D Creature starts with a simple skeleton creator where users lay out the basic anatomy of their creature in digital clay. Multi-Touch gestures allow users to thicken, stretch and sculpt their creature using tools common to Autodesk's 123D Sculpt app. Once finished sculpting and shaping, a creature can be airbrushed or adorned with decals and textures imported from the user's iPad photo library.
To show off a finished creation, users can bring the creature into the Render Room to customize lighting and shadows, apply filters, and import background photos to generate unique images.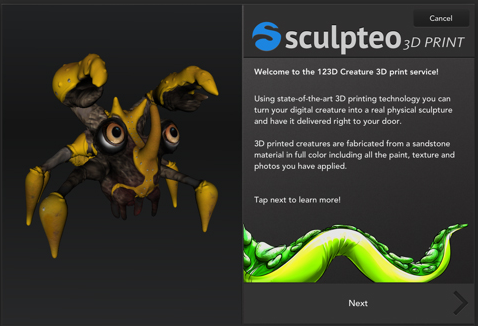 Users who want a sculpture of their masterpiece may order a 3D print of their creature. The model is sent automatically to 3D printing service bureau Sculpteo. Models created in 123D Creature may also be exported to professional software such as Autodesk Maya and Autodesk 3ds Max for further enhancement.
Autodesk says the price of Autodesk 123D Creature is $7.99 (through the iPad App Store or online) but is being introduced at a special price of $1.99 "for a limited time."