New features include 64-bit native support, multiple search conditions, graphics accelerator auto-detect, and more. Lattice has sold more than 500,000 seats of its various 3D tools.
Lattice Technology has released an update to XVL Studio, its market-leading software for repurposing 3D manufacturing data for downstream use. New features and enhancements in XVL Studio 11.0a include 64-bit native support, multiple search conditions, graphic accelerator auto detect, improved part activation control, and more.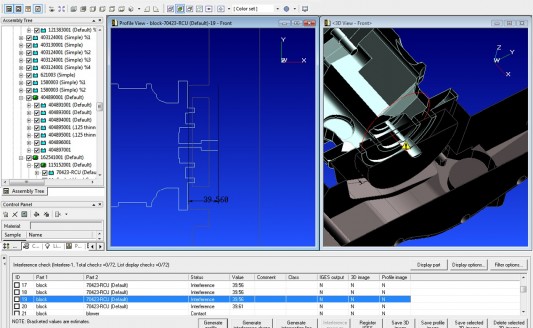 With over 500,000 copies of Lattice Technology products sold, XVL 3D visualization technology has become a global leader for digital mock-up, process planning and 3D technical documentation in manufacturing. In Japan, where manufacturing engineers hold as much cultural clout as design engineers, Lattice's XVL technology dominates the manufacturing scene. The basic visualization technology at the heart of Lattice products is also a key technology used by Dassault Systèmes in much of its 3D design software, including the Catia product line.
New and improved features, by category:
Digital Mockup
Measurement units: Switch between metric and inch results display;
Checked values: Display results values in 3D display as well as report panel;
Profile view: Dynamic cross section profiles with easier measurement and simple drawing tools;
Equipment and tools: Copying of tools and equipment to enable easier planning and analysis.
Technical Illustrations
Output: New custom pre-sets for illustration output, support for Firefox SVG viewer;
Quality: Line extraction by part, shaded parts included in hidden line display, and illustration export and improved edge extraction;
Standards: Support for multiple CGM profiles including S1000D and ATA;
Export: Export gray scale images.
Process Planning
Manufacture Tree: New options for process planning and work instruction authoring enabling mBom creation, import and export, and easier creation of process steps from the mBom;
Export: Parts involved in individual process steps can be exported as single XVL file;
Mark-up and Annotation: Improved mark-up and annotation of process step views, enabling easier sharing of mark-ups and comments.
Work Instruction Authoring and Publishing
Exploded views: Create exploded views with all parts involved in a process. Export views including trace lines, callouts for process steps with all required parts;
Alerts: Automatically add call-outs to parts and alerts to each step (part names, warnings, etc.);
Animation: View animation from exploded view. Enhanced trace line display for process animation and process step display, and improved control of sub-assemblies in process animations;
XVL Studio is available in Basic, Standard and Pro editions. The features will also be available in the XVL Technical Illustration and Technical Collaboration Suites.
Lattice Technology has also released new versions of XVL Player (German), XVL BOM Assembler and XVL License Manager. All updates are available free of charge to maintenance customers.