Stephen Bodnar led the recent launch of Autodesk PLM 360. Current Kenesto CEO Michael Payne never stays in the captain's seat for long. 
Kenesto Corp., provider of cloud-based Social Process Management software, has lured away the Autodesk VP responsible for the launch of PLM 360, Autodesk's new cloud-based suite of PLM tools.  Stephen Bodnar will be Kenesto's vice president of products and marketing. Bodnar has a long resume in product data management (PDM) and product lifecycle management (PLM).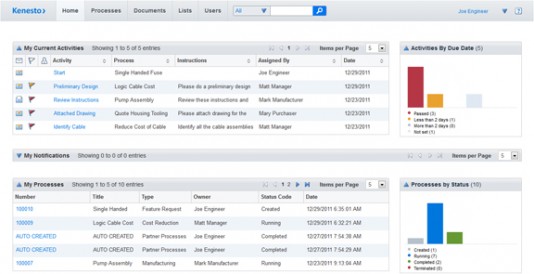 Before joining Kenesto Bodnar was VP of PDM and PLM at Autodesk. In a press release announcing the hiring of Bodnar, Kenesto says Bodnar led the growth of Autodesk's Vault PDM business by 15x over four years. Most recently Bodnar oversaw the launch of Autodesk into the discrete PLM market with the introduction of the cloud-native PLM 360 solution.
Bodnar began his career at Chrysler in its Engineering and CAD/CAM/CAE groups.  After eight years with Chrysler, he joined Control Data System's Manufacturing/PDM division where he served as a sales engineer, product architect, and product manager for Control Data's PDM solutions EDL and Metaphase.
Bodnar later helped create Auxilium, a software company that pioneered the creation of composite web applications which connected to a variety of back-end systems, including most established ERP and mainframe solutions.  After Auxilium's acquisition by PTC, he became PTC's Director of Product Marketing for the Windchill PLM group.  Bodnar later re-joined Metaphase after it had been acquired by Structural Dynamics Research Corporation (SDRC).  After SDRC's acquisition by Electronic Data Systems, Bodnar joined simulation software vendor MSC Software Corporation where he served as vice president of marketing and product management.
Our take
Kenesto is the latest brain-child of CAD industry serial entrepreneur Michael Payne, whose resume includes being a co-founder at PTC, SolidWorks, and SpaceClaim. Payne's legendary nervous energy is better served in product development than in day-to-day company management. Stepping in as a VP is most likely the first step toward making Bodnar the eventual CEO; all that matters now is that illusive quality called chemistry. It took Payne and his partners two tries to find someone with the right chemistry at SpaceClaim.
Related
Start-up Kenesto releases cloud-based manufacturing process automation with 3D CAD viewing feature
CAD Society honors Fu, Payne, and Tara with 2010 awards