The free analysis of the graphics processing unit market takes a close look at how the new generation of embedded graphics processors affect discreet GPUs.
Jon Peddie Research (JPR), has released a new white paper on the GPU market, available as a free download.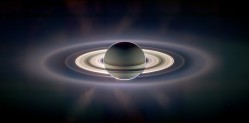 From the introduction
Computer graphics is hard work. Behind the images you see in games and movies, or while editing photos or video, some serious processing is taking place. All the processing power you can muster is needed to push and polish pixels. And this task is only going to get more demanding as these applications get more sophisticated. Graphics Processing Units (GPUs), which do the heavy lifting in computer graphics, range greatly in size, price and performance. They span from tiny cores inside an ARM processor (such as Nvidia's Tegra or Qualcomm's Snapdragon), to graphics integrated within an X86 processor (such as AMD's Fusion, Intel's Sandy Bridge), to a standalone discrete device, or dGPU (such as AMD's Radeon, or Nvidia's GeForce).
Graphics is the poster child for parallel computing problems, so it's not surprising that GPUs are parallel processors providing super high performance. They are comprised of a matrix of specialized 32-bit floating point processors, with as few as four cores (also called shader processing units) to as many as 1,600 cores. The more cores, the higher the performance. And there is effectively no limit to the number of cores they can contain—other than the constraints of state-of-the-art processor manufacturing technology, as well as chip size and the power required to drive the chip.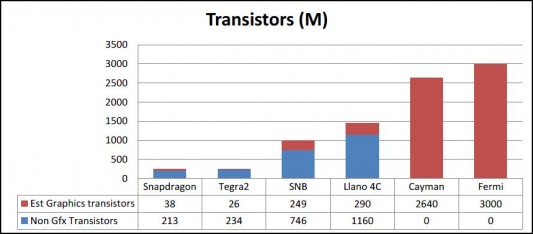 Although the popular press and some analysts would like to believe otherwise, there's a simple truth in the business: You can't get the same level of performance from integrated graphics as you can from a dGPU. It's a matter of basic physics.
Given that all processors use basically the same size transistors, the how big is the chip? Stated another way, how many transistors does it have? Second, how many of those transistors can be, or are, dedicated to graphics? And finally, how do you cool such a device?
To give some sense of the range of transistors in processors, consider this: Nvidia's Tegra 2 chip has 260 million transistors. Qualcomm's Snapdragon has 200 million to 300 million transistors. AMD's Llano 4C has 1.45 billion transistors. Intel's Sandy Bridge has 995 million transistors. AMD's latest Radeon has 2.64 billion. And Nvidia's GeForce has 3 billion transistors.
Now consider how many transistors are used just for graphics in these various processors.
About Jon Peddie Research
Dr. Jon Peddie has been active in the graphics and multimedia fields for more than 30 years. Jon Peddie Research is a technically oriented multimedia and graphics research and consulting firm. Based in Tiburon, California, JPR provides consulting, research, and other specialized services to technology companies in a variety of fields including graphics development, multimedia for professional applications and consumer electronics, high-end computing, and Internet-access product development. Jon Peddie's AIB Report [[[ http://jonpeddie.com/publications/add-in-board-report/ ]]] is a quarterly report focused on the market activity of PC graphics controllers for notebook and desktop computing.
Click on the link to download the new white paper on the GPU market  from Jon Peddie Research.