Intel and AMD collaborate on a new CPU-GPU multichip for high-end notebooks and small form-factor desktop using AMD's GPUs. And, somewhere along the way, former RTG chief Raja Koduri, signs on with Intel.
By Jon Peddie and Kathleen Maher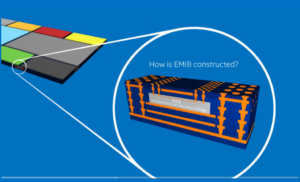 There have been plenty of rumors going around about Intel's planned to use AMD's GPUs. Kyle Bennett of Hard/OCP apparently caught wind of it back in July 2016 (or he was just making up crazy stuff and got lucky), Fudo Abazovic followed up on his site Fudzilla in May 2017 and also said there was a deal in place.
Now it's official. Intel is buying custom chips from AMD. It's more of a straight business deal than we might have supposed in our more paranoid moods. There is no exchange of IP. Intel will source the memory separately. Intel went with AMD because they liked how AMD integrated HBM2 into the Radeon architecture, and admired AMD's custom experience.
Maybe that's not all they admired because there was an unexpected exchange of human capital announced after the Intel and AMD's collaboration was announced. AMD's chief of graphics, head of the Radeon Technology Group, Raja Koduri announced his plans to leave the company. As far as anyone knew, Raja was going to stay on in India as he'd been talking about for several months. But, immediately after that announcement and before any of us could even finish report on the Intel deal and Raja's departure, the guy turns up at Intel.
We didn't see that coming and we don't think anyone else did. But, we will say that people just don't walk into Intel and get a job the same day, so there had to be at least a couple of weeks when everyone was negotiating and being vewy vewy quiet.
Back to the start. Intel will be buying chips from AMD and then using Intel's manufacturing talents to marry an AMD semi-custom GPU, with high band width memory (HBM2), and Intel's 8th gen H-series CPU into a super-thin package enabling OEMs to build a thin and light enthusiast notebook, not 26 mm thick as they are today but closer to 15 to 16 mm like a mainstream thin and light notebook. The new product will help create a new segment:  thin and light form machines for enthusiast and content creation customers.
Intel is employing an Embedded Multi-Die Interconnect Bridge (EMIB) that's impeded within the package to allow the GPU and memory to talk with each other. That has enabled the disparate devices (HBM2, CPU, GPU) to talk to each other as fast as an electron can move down a wire, but that's only part of the equation.
EMIB is an interconnect of heterogeneous chips.  The industry refers to this application as 2.5D package integration. Instead of using a large silicon interposer typically found in other 2.5D approaches, EMIB uses a very small bridge die, with multiple routing layers.  Intel has been able to embed the bridge die using their substrate fabrication process.
When you run a high-performance machine, you've got to be careful about how it uses power. You don't want a $1,000 chip melting or turning itself off because it runs too hot. Intel has that covered by spreading their dynamic power management software throughout the multi-chip.
By welding together these powerful components Intel is saving 1900 mm2 (~ 3-in sq.) of system board space, which makes cooling better, and allows for a larger battery.
The power sharing framework is a new connection between the processor, discrete graphics chip and dedicated graphics memory made by Intel. They've also added unique software drivers and interfaces to this semi-custom discrete GPU that coordinates information among all three elements of the platform. Not only does it help manage temperature, power delivery and performance state in real time, it also enables system designers to adjust the ratio of power sharing between the processor and graphics based on workloads and usages, like performance gaming. Balancing power between our high-performing processor and the graphics subsystem is critical to achieve great performance across both processors as systems get thinner.

Intel will formally announce and name this new part in Q1'18, and begin shipping later in 2018. This is a major turning point in the industry, and I think a proud moment for Intel. The company has done a tremendous job with the HD series on integrated GPUs, but you simply can't get enthusiast-class performance with a shared, narrow bus-width memory, and Intel knows that as well as anyone. However, you can't jam a 250W PCIe AIB into a thin and light notebook either. So Intel did what they are so good at, making an engineering decision and exploiting their strengths, and have come up with what looks like will be a killer product for the high-end enthusiast market.
You can read more about it here.
Back to the gossipy stuff
So why would Intel give an edge to a competitor like AMD. There are several reasons, the first being, as we said, an admiration for AMD's custom chip strategy. If you can't beat them, give them exactly what they want. It's possible that Intel was bending to the will of one very important customer, Apple. Apple maybe have been pushing for a thinner lighter sleeker Air, and Intel's integrated chips just couldn't skinny under the power bar that kind of design would require.
All of which brings up part two of a conspiracy theory. Why would Raja Koduri jump ship to the other side. Yes, money, of course money, but also because Intel could offer Koduri a chance to push graphics further and maybe even raise his own profile. If the Apple theory is correct, Raja has experience all along the way, he did a stint at Apple and he has mentioned that he left because he felt constrained within the company's rigid and secret corporate culture. By all accounts he was happy at AMD but stressed as his team raced to meet deadlines and sometimes just barely. It could be, and this is where we've crawled way out to where the ice is thin, that he enjoyed his working relationship with Intel and was stimulated by possible new development directions.
Let's also say this. AMD's Drew Prairie reminds us that Koduri, just like any key employee is bound by post-employment confidentiality and non-solicitation agreements. Furthermore, he adds, "AMD fully anticipates that any well-represented and well-advised company would not seek to taint their own intellectual property by attempting to use or access AMD's confidential information or IP. The industry is well aware that AMD has industry-leading graphics IP and, if necessary, we will vigorously defend it."
Related stories: