New release adds SAT export, advanced markup, 2D CAD import from 3D CAD products, and more.
An update to Kubotek KeyView, a visualization tool popular in heavy manufacturing, is now available with new features that include import of 2D CAD files, a quick print function, enhanced markup functionality, and various analyzing possibilities for tool and mold making.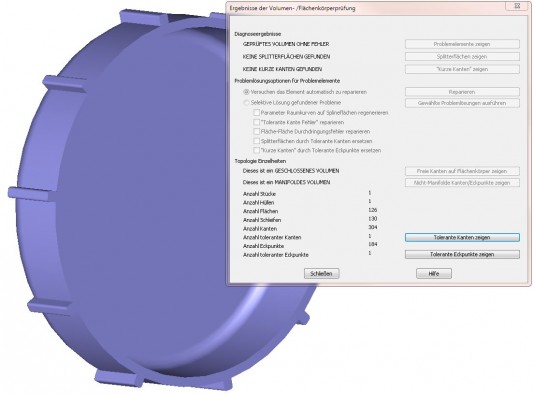 Details on new features in version 10.1.0 include:
2D CAD importers—Kubotek KeyView now supports the import of 2D CAD files from CATIA V4, CATIA V5, Pro/Engineer (Creo) and NX. Previously only the 3D data from these products could be imported.
SAT export—SAT export function is useful for data exchange with systems that use the 3D ACIS Modeler from Spatial Corporation. An optional feature, the SAT exporter in KeyView can export solids, surfaces and wireframes. Users may choose to export the complete model or only parts of it. SAT files may be delivered in binary format (.sab) or ASCII format (.sat). Kubotek KeyView supports the current ACIS SAT version R21 back to the historic version 1.5.
Advanced markup functionality—Markups may now be placed on a user level. For each user, KeyView automatically creates a separate layer to save markups such as measures, notes etc. These layers can be switched on and off.
Quick Print—The quick print function allows users to easily print what is displayed in the graphic window on the screen.
Tool Making Plug-in—Kubotek KeyView now has an optional tool-making plug-in for Tool, die and mold making users. The plug-in provides numerous tools to carry out precise analyses and get measures of parts without having access to a CAD system. The package includes draft angle analysis, wall thickness analysis, minimum distance, shrinkage factor, deviation analyses, and more.
Kubotek is on a fast-paced development schedule. This is the sixth update of KeyView this year, and two more releases are planned for 2011.
More information on the KeyView website, including details on the product's next release.