The total market was in seasonal decline, down 4% from last quarter.
Computer graphics chip maker AMD increased market share 0.4% during the second quarter of 2016, according to a new market report from Jon Peddie Research. AMD, the smallest of the three remaining computer graphics processing unit (GPU) vendors, continues to take market share from Nvidia and Intel.  

AMD's market share growth was up 2.8% from the second quarter of last year. Sequentially Intel increased market share 2.4 % from last quarter and Nvidia's market share decreased 2.8% from last quarter.
The PC market rose in the second quarter sequentially, but declined from the same quarter last year, largely due to data center and servers. Some PC suppliers are seeing growth in 2-in-1 systems, gaming desktops, and notebooks. JPR says these vendors hope gains in these segments will offset the slowdown in the more general PC market.
Overall GPU shipments (rounded up) decreased 4% from last quarter; AMD decreased 1%, Nvidia decreased 20%, and Intel decreased 1%. Year-to-year total GPU shipments decreased 10%, desktop graphics decreased 6%, and notebooks decreased 12%.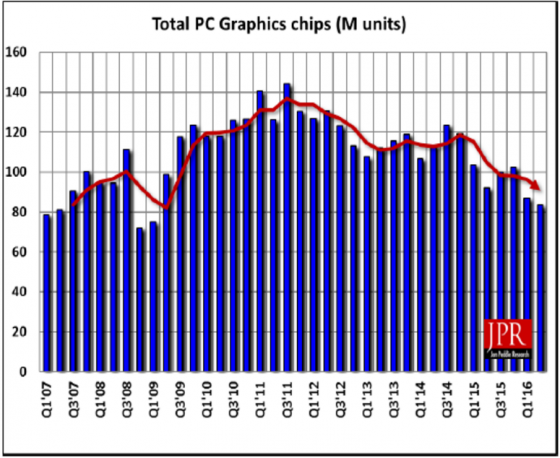 Graphics processors, stand-alone discrete devices, and embedded processor-based GPUs are ubiquitous and essential components in all systems and devices today from handheld mobile devices, PCs, and workstations, to TVs, servers, vehicle systems, signage, game consoles, medical equipment, and wearables. New technologies and semiconductor manufacturing processes are taking advantage of the ability of GPU power to scale. The GPU drives the screen of every device we encounter—it is the human-machine interface.
Other notes from the quarter:
AMD overall unit shipments decreased 1.41% quarter-to-quarter; Intel total shipments decreased 0.74% from last quarter; Nvidia decreased 20.01%.

The attach rate of GPUs (includes integrated and discrete GPUs) to PCs for the quarter was 132% which was down 7% from last quarter.

Discrete GPUs were in 27.78% of PCs, which is down 4.94%.

The overall PC market increased 1.06% quarter-to-quarter, and decreased 5.83% year-to-year.

Desktop graphics add-in boards (AIBs) that use discrete GPUs decreased 20.81% from last quarter, reflecting seasonality and the clearing out of inventory from older models, and as Nvidia introduced several new boards during the quarter.
GPU's are traditionally a leading indicator of the market, as GPU goes into every system before it is shipped; most PC vendors are guiding cautiously for the third quarter.
JPR notes the Gaming PC segment—where higher-end GPUs are used—continues to deliver growth for PC makers. New gaming content and the promise of Virtual Reality helped drive the demand for gaming desktops and notebooks.
For more information: http://jonpeddie.com/publications/market_watch/