The fourth Chromebook vendor offers the first 14" screen.
HP is now the fourth computer vendor to offer a Chromebook, the notebook specification based on Google technology. The new HP Pavilion 14 Chromebook differentiates itself from models by Samsung, Acer, and Lenovo with the largest available screen and and technology from the HP brain trust.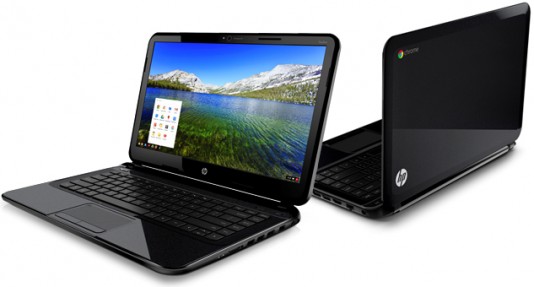 The Pavilion 14 Chromebook is powered by an Intel Celeron proces­sor with HD graphics. An extra layer of hardware security is built-in using HP's Trusted Platform Module. The 14-inch (diagonal) screen uses HP BrightView display technology.
Other features include a 16 GB SSD, 4 GB of RAM, an HD web­cam, HDMI, USB 2.0, Ethernet jack, a removable battery, and 100 GB of free storage on Google Drive for two years. It weighs just under 4 pounds and sells for $329.99. The most comparable models are the Samsung Chromebook Series 5 ($449) and the Samsung Chromebook 3 ($249), which was a holiday best-seller; both have 12-inch screens.  The 5 is similarly equipped to the HP model, while the 3 lacks the Ethernet jack and sports a Samsung homegrown CPU. At first glance, the HP model is one more notebook computer, while the Samsung Chromebook 3 looks like an Ultrabook or a MacBook Air.
Our take
There is plenty of skepticism going around regarding Chromebook as a viable platform. But vendors don't keep jumping on a bandwagon if it has already proven to be going nowhere. HP is open about exploring a multi-OS strategy going forward. Adding Google's Chrome OS to the HP lineup gives the best of Linux with the security of having one very large corporate R&D team standing behind it. Google is making the same ecosystem play as Apple, Microsoft, and Amazon, but has room for multiple hardware vendors to join in.
The Lenovo Chromebook is being pitched exclusively to the educational channel; the Samsung and Acer models are clearly consumer class. HP is also a consumer notebook, but has the brand value that can lead to commercial accounts as soon as somebody is ready to issue a purchase order.