With game-style navigation and social networking as a useful function, Graphisoft has released the industry's first next-generation CAD/BIM viewer. 
Graphisoft announced today the extension of its BIMx model viewing platform to Apple iOS devices. Users of BIMx for iPad or iPhone need not have a license of Graphisoft's ArchiCAD BIM software to view models. The BIMx viewing environment includes Windows and Mac viewers and a Facebook page where models may be posted for sharing.
Graphisoft calls BIMx a "social model sharing" system. The mobile viewers, the desktop application, and the Facebook page work as a unit to put BIM models "into the hands of all stakeholders not actively involved in the actual creation of the BIM model such as contractors, builders, clients, owners, and principals of design practices," says the company in a statement announcing BIMx.
Features of BIMx for iPad/iPhone include:
real-time 3D navigation
stereo, shaded and hidden line views
enhanced with gravity
fly-mode
egress recognition
'tap to go through the door'
'tap to go there'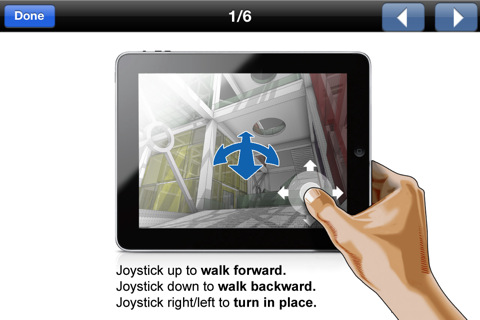 The BIMx user interface includes an on-screen dot called the joystick, which provides a visual guide to navigating the site. Use the joystick in Fly mode and the viewer can go anywhere, through walls or ceilings. Switch to Walk mode and the user is limited to navigating the model as if walking through it, including the bump-bump-bump of the view as the user "walks" up stairs.
Models may be placed on the BIMx Facebook page to be shared by other BIMx users. Native Facebook functions such as Comment, Like and Share are extended with customized functions for filtering models by educational or professional types; searching models using key-words or finding uploaded models of specific users, architects or clients. BIMx models can be uploaded, browsed and downloaded by non-Facebook users as well; only "liking" and "commenting" requires Facebook registration.
The BIMx desktop application is part of ArchiCAD 15. BIMx for the iPad/iPhone became available today as a free app from Apple's App Store and iTunes.
Taking iPad viewing to the next level
Graphisoft has clearly done their homework, and have taken iPad viewing of architectural models to another level. The integration of social networking software with CAD/BIM viewing is an innovation the competition will monitor closely and ape quickly. This is the first next-generation CAD/BIM viewer.