Virtual reality for viewing the virtual building model.
BIM software developer Graphisoft, maker of ArchiCAD and BIMx for architects, has added support for the Google Cardboard virtual reality viewer as an update to BIMx.
The new VR functionality will allow users of either Android or iOS smartphones to view building models in an immersive 3D viewport. Navigation through the site is via head motion. Google Cardboard viewer version 2.0 is required.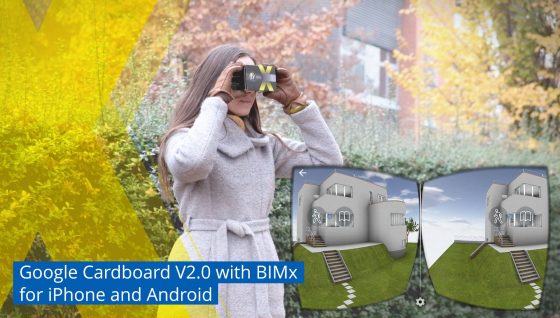 "Affordable equipment such as Google's Cardboard viewer help spread virtual reality beyond gaming," said Gyuri Nyitrai, BIMx product manager at Graphisoft.
Other new features in the recent update to BIMx include the ability to use a split view feature on iOS and Android tablets, and to multi-task between two apps on a tablet. The update also enables selection of more than one element from an inbound hyperlink, facilitating data access on construction sites and with Facilities Management. BIMx offers a feature for locating building components in the Virtual Building; to access BIM elements in the 3D model, users can now insert these hyperlinks into any website, a Facilities Management database or into a product catalog application.