AMD and Nvidia both want their raytracing technology in the hands of Rhino 3D users.
The fierce rivalry between AMD and Nvidia never seems to let up. Recently both companies have turned their attention to Rhino 3D, the popular NURBS-based design tool from McNeel and Associates.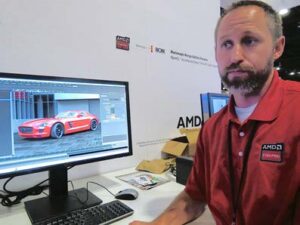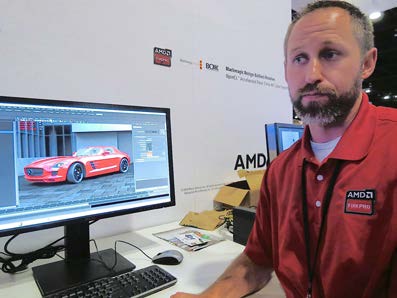 Last week at the Develop3D conference in the UK, AMD presented a new photorealistic raytrace renderer for Rhino. Currently unnamed and in beta, the render will work inside the Rhino viewport. The free download is optimized for AMD's FirePro W-Series GPU. It will scale the raytracing work across more than one GPU. AMD says their renderer uses "physically correct material and rendering technology." While optimized for the FirePro W line, it also will work with any OpenCL 1.2 compatible GPU, which means newer GPUs from Nvidia and Intel will also work.
The new Rhino renderer from AMD is a response to a Rhino-specific rendered in the works at Nvidia. Also in beta, the Nvidia renderer for Rhino is based in Iray technology, which Nvidia also licenses to other vendors; Chaos Group has a popular Rhino renderer that used Iray. Nvidia will be showing the renderer off at this week's GPU Technology Conference (GTC) in Santa Clara.
Veteran industry observer Jon Peddie will be speaking on ray tracing technology at GTC April 6 at 10:30am. For more information about GTC and Dr. Peddie's presentation, check out this recent GraphicSpeak article: Looking forward to Nvidia's GTC conference.