Demand for more powerful graphics processing continues to rise even as PC sales continue to drop.
Shipment of graphics add-in boards (AIB) jumped 21% in the fourth quarter of 2016 compared to the year-ago period, according to a new market research report released today by Jon Peddie Research.
By comparison, sales of desktop PCs fell 10.9% during the same period. On a sequential basis, AIB shipments during the quarter increased from the last quarter 5.6%.
"The graphics add-in board market has defied gravity for over a year now, showing gains while the overall PC market slips. The silly notion of integrated graphics 'catching up' with discrete will hopefully be put to rest now," said Dr. Jon Peddie, president of Jon Peddie Research.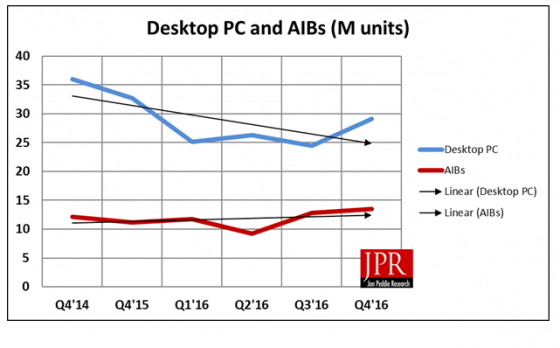 AIBs using discrete GPUs are found in desktop PCs, workstations, servers, and other devices such as scientific instruments. They are sold directly to customers as aftermarket products, or are factory installed by OEMs. In all cases, AIBs represent the higher end of the graphics industry with their discrete chips and private, often large, high-speed memory, as compared to the integrated GPUs in CPUs that share slower system memory.
However, in spite of the overall PC churn, somewhat due to tablets and embedded graphics, the PC gaming market continues to show momentum as the bright spot in the AIB market.
JPR says demand for Gaming PCs is robust. Intel validated this on their most recent earnings call. "The gaming market is lifting the entire PC market and has overwhelmed the console market," notes Peddie.