The only CAD developer with compatible solutions for desktop, mobile, and cloud deployments offers simplified subscription management.
The developer of the second-largest installed base of 2D CAD software has introduced a new licensing and subscription scheme that solves how customers can use its triad of desktop, mobile, and cloud platforms on one subscription license.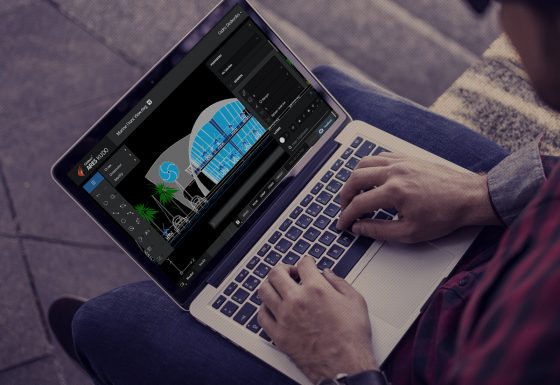 Berlin-based Graebert GmbH develops 2D drafting software primarily for resale by other software companies, including DraftSight for Dassault Systemès and CorelCAD for Corel Software. The new licensing scheme is specific to the dwg-compatible software it sells under its own brand name, Graebert Ares Commander (desktop), Ares Touch (mobile), and Ares Kudo (browser-based, cloud-hosted). The desktop Commander software is available for Windows, Mac OS, and selected Linux distributions; the mobile software Touch ships as apps for Andriod or iOS. The browser-based Kudo will debut in the next two-three months.  
Graebert refers to the three related products as their Trinity line. As the three roll out with new editions in the next few months, they will sport complementary user interfaces, allow users to move from one device to another without specifically logging out, and track license rights so that users do not have pay more than once to use all three drafting environments. The Trinity concept will provide a new customer portal allowing each user to manage licenses and rights across all their computers and devices.
"The transition to Mobile and Cloud in the CAD industry will obviously take years," says Graebert founder and CEO Wilfred Graebert. "In the meantime, we will see desktop, mobile and cloud coexisting. Our customers don't want to be forced into only one of these options."
What do we think?
2D CAD is still part of the technology marketplace, despite the lion's share of attention going to 3D CAD. More than 8 million seats of Graebert-created 2D CAD are in use, second only to Autodesk AutoCAD and related products. When the new versions of Ares ship in the next few weeks, Graebert will have the market's only CAD software — 2D or 3D — that offers the three platforms of desktop, mobile, and cloud under one license.
Users of cloud-based solutions like Google Docs will immediately appreciate what Graebert is offering. Someone can do most of their work on a desktop computer, but over the weekend review some specific element of the drawing on a tablet, or on any computing device with a browser. The drawings are always accessible, and the user has legal software that fits the modern "anytime, anywhere" workflow.
Autodesk is dealing with ending the sale of perpetual licenses, moving its users to a subscription licensing model. The transition has infuriated a significant percentage of its user base. Graebert's new model provides incredible value for the money, but also makes it simple for companies to stay in compliance with license requirements and provide their users the access flexibility they require.