Users of both products can offer browser-based photorealistic 3D product views to their users.
When cloud-based 3D product visualization platform Lagoa debuted in 2013, it initially found a market with the makers of high-end luxury goods. But in recent weeks Lagoa has made deals with two vendors that will place it squarely in the mainstream of product development and mechanical design. Online collaboration tool GrabCAD Workbench and 3D direct modeling software SpaceClaim are both offering the Lagoa photorealistic rendering service to their users.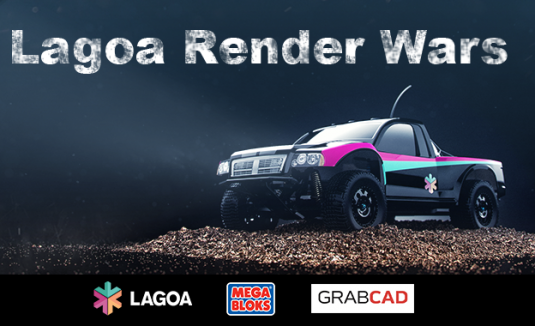 Users of both products will be able to work with and share photorealistic rendering of product models without being a visualization expert. For SpaceClaim, which is a desktop tool, having Lagoa available means the heavy processing required by photorealistic visualization moves off the desktop and onto to the cloud. For cloud-based collaborative GrabCAD, it means fast access to visualizations while sharing models with others.
"We've chosen to work with Lagoa because it delivers the high-quality results GrabCAD users expect without forcing users out of the GrabCAD application," says Hardi Meybaum, CEO of GrabCAD. "This integration makes it easier to get started, and combines ease of use with top-tier capabilities like HDR environments and advanced materials effects, without downloads or installations."
"My customers demand a high-quality, interactive, photoreal experience when purchasing jewelry online," said Ray Babikian, CEO of 3D SpacePro, an early users of Lagoa inside SpaceClaim. "Previously, I spent months creating images to fake a 360-degree rotation of the product, which was tedious and an incomplete experience for the buyer. When I first saw Lagoa, I was shocked. Lagoa is the perfect solution for the creation and publishing of 3D interactive, photoreal product configurators that run in a browser. This, together with their integration in SpaceClaim, means I have the same pipeline from creation, communication to publishing."
What do we think?
Photorealistic visualization for product development has become a battleground between those who insist local CPU-based rendering provides the best possible end result, and those who use cloud-based GPU rendering. The quality of the cloud rendering is good enough for most users; the arbiters of style still seem to prefer the ability to tweak each rendering with infinite complexity on the desktop. The pressure is increasing on the vendors of the leading CPU solutions to deliver their quality faster and simpler if they want to compete with the GPU/cloud providers.