A 13 inch touchscreen, a terabyte of cloud storage, and sleek design change the nature of the conversation.
Google today introduced Chromebook Pixel, a Google-branded notebook computer that runs Google's Chrome OS, a browser-based alternative. While existing Chromebooks target the budget end of the notebook market, Chromebook Pixel takes square aim at those who might otherwise consider a MacBook Air or a Windows-based Ultrabook.
The Pixel was designed and built by Google and an unnamed hardware partner in Taiwan. There will be a WiFi model for $1,299 and an LTE version for $1,224; Verizon Wireless will sell wireless plans for Pixel when the units start shipping in April.
Google says the Pixel has the highest pixel density—239 pixels per inch—of any notebook screen on the market today; the MacBook Pro with Retina Display, by comparison, is 227 ppi. The 12.85" screen offers 2560 x 1700 resolution and a 3:2 aspect ratio—tall rather than wide, the industry norm today. Google says the aspect ratio optimizes the Internet viewing experience, and offers 18% more vertical space than the conventional 16:9 layout. The Gorilla Glass screen is also a capacitive touch screen; Google is encouraging developers to create new touch-based applications for the Chrome environment.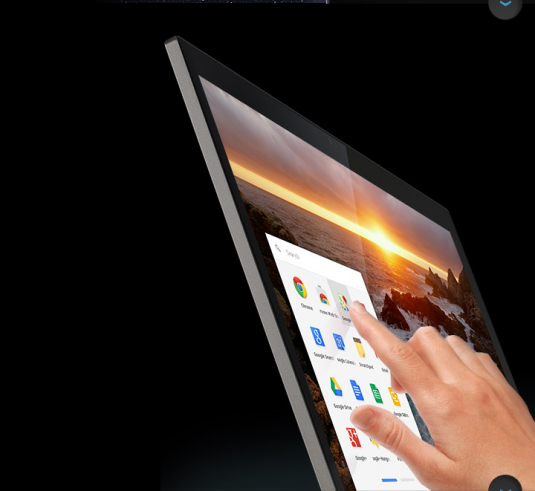 The Pixel runs on an Intel core i5 processor and utilizes either a 32 or 64 GB internal SSD; the larger one is for the LTE model. A 1 terabyte account on Google Drives is included in the purchase, as are 12 passes for using Gogo in-flight WiFi.
The body is an anodized aluminum alloy with stylish design; vents are hidden, screws are invisible, speakers are under the keyboard. The touchpad is made from etched glass for greater precision and a premium tactile feel. Other features include a full-size backlit keyboard, and SD slot, dual USB ports, and three integrated mics designed to cancel out background noise—and keyboard noise—when videoconferencing. The trackpad is designed for multi-finger gestures, as already offered by other Chromebooks. The unit weighs 3.35 pounds, about a pound more than the hot-selling Samsung Chromebook 3, which has an 11 inch screen and a plastic body.
Our take
Google Chrome is intentionally a minimalist operating system. It is not designed to compete head-on with Windows or Mac OS. But the Chromebook Pixel is certainly aimed at competing with the premium segment of the notebook market. In a meeting with selected press today, top Google Chrome executive Sundar Pichai said it might take people a while to get used to using a touch screen on a notebook, but promised that soon users will be able to use the touchscreen to work on documents created by Microsoft Office products. "It is clear touch is here to stay and that it is the future." It helps that Google recently bought Quickoffice, an Android app that makes Microsoft Office compatibility its reason for existence.
Chromebook Pixel is both product and design specification. Like Microsoft, Google is bringing hardware to market to show what is possible as well as to make a buck directly off the equipment. It is not much of a leap to go from a touchscreen Chromebook to a tablet with an optional keyboard running Chrome instead of Android.