Superelement support and extended Nastran integration provide increased opportunities for structural analysis.
Siemens PLM says its new release of Femap software for product development simulation and analysis benefits from significant enhancements in data handling and graphic performance. Femap Version 11, Siemens'simulation software for mainstream engineering, is said to speed data access by up to twenty five times and reduce memory usage by up to 80%. The company also claims dynamic rotation of large, complex models is at least five times faster than the previous version.
"I was very impressed with the performance of Femap 11," said Cong Yuan, a Femap 11 beta tester at NST, an engineering consulting firm. "Using one of its new features, we were able to significantly reduce processing time while keeping the computer resource usage low. Reopening a large analysis result file was over 200 times faster."
Femap 11 also now creates geometry from a finite element mesh when no underlying geometry is available. Siemens says this simplifies modification and enables legacy finite element models that previously took hours to update to now be done in minutes. Users can take an existing shell model, create new surface geometry, apply any necessary modifications or updates, and then remesh to create a new shell model.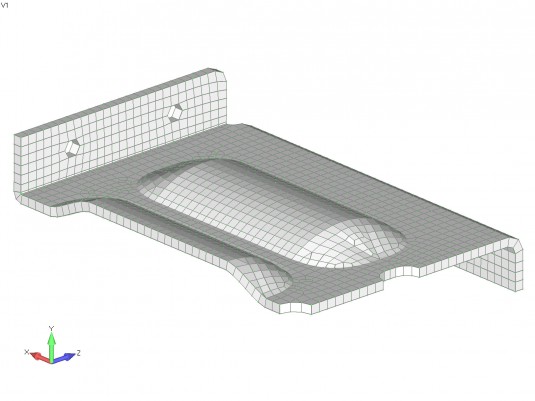 Other new features:
Increased simulation scope with external superelement support: External superelements provide a method of passing structural data in matrix form only to maintain confidentiality. In Femap 11, the external superelement creation and subsequent analysis in an assembly run is now supported, making it easier to set up and process external superelements.
Easier results comprehension with streamlined XY plotting: XY plotting is streamlined to facilitate XY plot creation and aid comprehension of the results data. User control of graphing options has been extended, allowing greater flexibility of results XY plot creation.
NX Nastran integration: Femap version 11 ships with NX Nastran 8.5 and extends support of NX Nastran, further tightening the integration between the pre- and postprocessor and solver.
Femap 11 is available immediately.