HP, Océ, Canon, and others already have loyal customers; can Epson find a niche?
Epson America today introduced a new line of large-format ink-jet color plotters, joining a crowded field dominated by HP. Epson is counting on newer technology, high quality inks, and competitive prices to help it snag market share.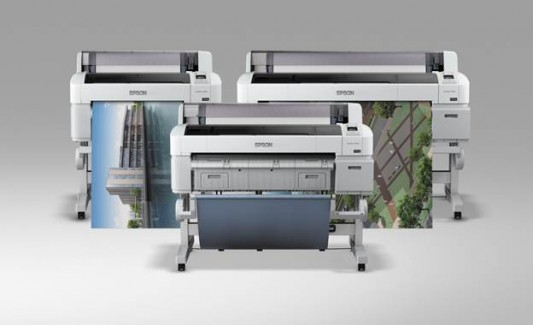 Initially there are three models, listed with print width and suggested retail price:
SureColor T3000, 24", $2,995
SureColor T5000, 36", $3,995
SureColor T7000, 44", $4,995.
Epson claims each SureColor plotter offers the fastest plotting speeds in their class, with resolutions up to 2880 x 1440 dpi and throughput of a D-size plot in as little as 25 seconds, or up to 110 per hour. The plotters come with an output stacking basket which can organize up to 20 A1/D- or A0/E-sized plain paper plots. An internal 250GB hard drive internal print server is optional.
Replacement ink cartridges are sold in 110 ml, 350 ml, and 700 ml capacities, and can be used interchangeably. Epson says its UltraChrome XD Ink is an all-new pigmented ink suitable for use on virtually any paper type, with archival quality and smudge and water-resistant output. Cartridges are front-loading.
Our take
The prices are good and the ink and hardware quality is likely up to typical Epson standards. But they are entering a mature market dominated by HP, with other players including Océ, Canon, and KIP America all in place. Buying a plotter is a long-term commitment to a reseller, the vendor and to an output size—nothing like the office or home ink jet printer market. They are likely counting on their history and reputation in large-format photographic printing to carry them into the technical graphics market. Time will tell if they are right.