Dell says its Precision M3800 is the thinnest and lightest Wintel mobile workstation ever.  
Dell has fired a shot across the Apple bow, aiming at all those engineers, architects, and professional content creators who run their key Windows-based CAD and content creation tools using MacBook Pro. The new Dell Precision M3800 is a mobile workstation for upwardly and constantly mobile technical and creative professionals.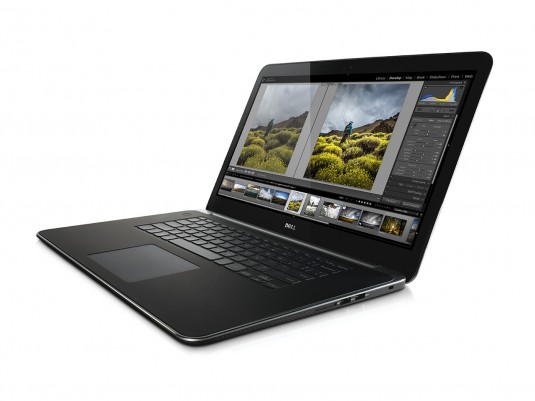 Our Jon Peddie got an early look, and is beside himself: "Dell has a long history of delivering leading-edge performance workstations for customers in engineering and digital content creation. After seeing the new Dell Precision M3800 ultra-thin mobile workstation it's like falling in love all over again. It has everything I want in a power notebook including a super processor and GPU, high-resolution and big screen, light weight, lots of I/O, great speakers and camera. What's not to love? With the M3800, I no longer have to sacrifice performance for mobility and beautiful design."
Less than three-quarters of an inch thin (18 mm) and starting at 4.15 pounds (1.88 kgs), the M3800 offers dual cooling and up to 10 hours of battery life. It comes standard with Nvidia Optimus technology to maximize battery life when using key engineering and content creation software products.
The new mobile workstation can be equipped with Windows 8.1 Pro (64-Bit) or Windows 7 Professional (64-Bit). Linux is not a listed option. As typical with Dell, there are a variety of installation options for memory (up to 16GB) and battery (6-cell at either 61Wh or 91Wh); two multi-touch monitor options for the 15.6" hole (QHD+ at 3200×1800 or FHD at 1920×1080), and a range of storage options for the two available slots, a 2.5″ drive and a solid state Mini-Card Dell.
The CPU and GPU are the same on all models, a 4th-generation Intel Core i7-4702HQ 8 threaded quad-core processor (with speed options up to 3.2 GHz), and the Nvidia Quadro K1100M GPU with 2GB of GDDR5 dedicated memory. Dell claims the K1100M GPU gives the Precision M3800 twice as much on-board video memory as the HP Z series Ultrabook.
The Precision M3800 is certified for a variety of software products, including:
Adobe Creative Suite

Autodesk Entertainment Creation Suite, AutoCAD, Inventor, and Revit

Avid Media Composer

Dassault Catia and Solidworks

PTC Creo

Siemens NX and Teamcenter
The stylish, industrial-grade design sports an aluminum frame and a lightweight carbon fiber chassis. The monitor is Corning Gorilla NBT Glass display with five-finger multi-touch on all systems.
Our take
The decline in PC sales has become old news, but less well known is how the workstation segment of the market is doing just fine. Dell has the competitive advantage in the mobile space at the moment, but HP and Lenovo won't let them stay in first long.