Extending HDR, adding social networking tools, and using layers to add styles are among the new features.
Corel has updated its popular PaintShop Pro product with an X5 version. Corel's PaintShop tools are searching for a market that sits between Adobe's Elements line of consumer products and professional tools like Adobe Photoshop.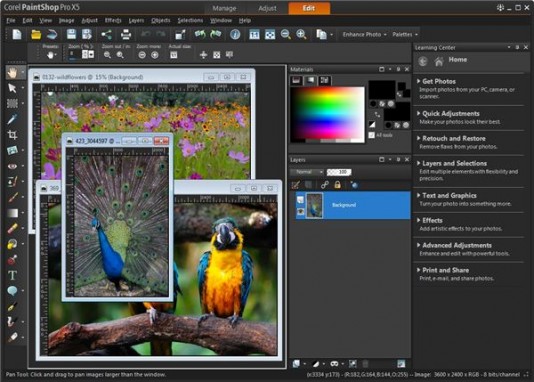 Corel's tools come with organization and search tools, as well as tutorials. The latest product builds on Corel's work done on the previous version to add layers, brushes, and HDR (high dynamic range). The revamp is slightly less radical this time out. Corel has added new filters including Retro Lab, an Instant Effects palette, and a graduated filter effect. They've beefed up the social networking tools, and the company says they've improved face recognition. Share My Trip helps people create interactive slideshows.
Matt DiMaria, Corel's EVP and GM of Digital Media, says that the latest version has included improvements that were high on the list of customer requests.
Corel introduced high dynamic range tools in the X4 version of the product. This time out, the company says they've improved the HDR features to make it easier to line up images and apply presets. The effect can be used for dramatic black-and-white images. And Corel has added a single image HDR tool that can be used with RAW images.
The latest batch of effects includes the ability to save effects as custom presets in addition to the effects and styles supplied including Artistic, Film, Black and White, and Landscape. The Retro Lab is self-explanatory, and it gives users the ability to duplicate the effects people are getting with Instagram, Pixlr, and other photo apps that reproduce the look you get from old or really cheap cameras. This is a trend we find completely baffling, but it is one recourse for dealing with images that have problems.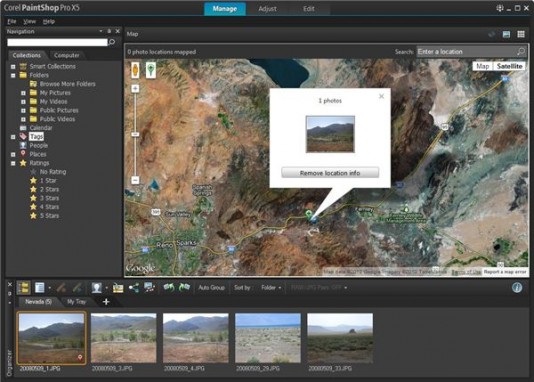 If you watch what Adobe is up to with Photoshop and Photoshop Elements, you can get a clue about what will show up in PaintShop Pro. The program's raison d'être is built around Corel's Taiwan-based developers' ability to add on popular tools soon after Adobe introduces them. The ability to create an HDR image using one photo is a case in point. So are the improvements made to layers, which can be used to add styles including drop shadow, glow, and reflections using the layers palette. This is helpful if you want to change the effects by changing the order of the layers or see what happens when you turn effects on and off. Corel says they've also enabled users to import Adobe Photoshop brushes.
Corel has been building a catalog of tutorials. The PaintShop Pro curriculum was pretty slim last time out, but the company says they have added a lot of new videos and teaching aids.
For users willing to spring for the Ultimate version, Corel is throwing in new tools including the Nik Color Efex Pro 3.0 filters and Reallusion FaceFilter Studio for portraits. The Ultimate version also includes more brushes, textures, and backgrounds.
Photoshop Elements has long offered video tools as well as still photo tools. Corel is catching up here too. The new Photo & Video Suite X5 adds tools from the company's VideoStudio line of products.
Pricing looks like this:
PaintShop Pro X5: $79.99 (upgrade $59.99)
PaintShop Pro X5 Ultimate: $99.99 (upgrade $79.99)
Photo & Video Suite X5: $129.