Those pricey new WinTel notebook computers that ape the MacBook Air were everywhere. Jon Peddie reports from Taipei.   
By Jon Peddie
If you visited this year's Computex and weren't told what to expect or look for, your im­pression would be it was the Ultrabook conference. Intel partners in all aspects of the industry, from component suppli­ers to software vendors, and of course, the Ultrabook suppliers like Acer, Asus, Dell, HP, Lenovo, Sony, and Toshiba, to name a few, were all there.
Intel's Sean Maloney introduced the Ultrabook concept at Computex last year and ignited the industry's imagi­nation with the idea, but he said the platform would be at its best with Ivy Bridge CPUs. Since then the company has been working with partners to enhance Ultrabooks to get the price down—that is, get the price down to a certain point. But Intel does not intend to make the Ultrabook a $500 machine; the model is for a special, semi-premium category that helps protect the mainstream PC industry against the forces of commod­itization.
The result is a deluge of new Ultrabooks at Computex this year, based on Intel's new 3rd Generation (Ivy Bridge) Core processors, which Intel is hoping will invigorate PC sales.
However, Intel didn't come to Taipei to gloat about the enthusiasm and sup­port for Ultrabooks but rather to show the path to the future. During his key­note speech, Tom Kilroy, Intel's senior vice president and general manager of sales and marketing, said that while touchscreen-enabled super-thin Ultrabooks are the current focus of attention for industry players, we will move on to voice and gesture recognition features in the next generation next year.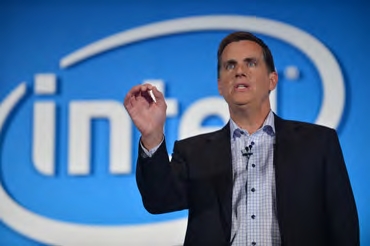 Kilroy said he expects to see convert­ible Ultrabooks "ramping up nicely" by Computex 2013. Touch will be a major attribute in terms of purchase criteria for Ultrabooks and notebooks, he said, and he thinks next year journalists at Computex will be talking about voice and gesture. He did not give a precise timetable for the launch of Ultrabooks with voice and gesture recognition features, but he said, "It's around the corner."
Some observers have suggested the expensive components such as solid-state drives, special cases, and touch­screens used in Ultrabooks make them too costly for many consumers.
Kilroy naturally didn't agree. "His­tory says if you have the right technol­ogy, in the toughest times we have gone through in the last two or three years, look how consumers have gravitated to tablets, which is an additional device, not a primary device," he said. He doesn't think there's a limitation that consum­ers will only pay only up to a certain amount.
At a meeting with analysts last month, In­tel CEO, Paul Otellini said the company was on track to reach its goal of Ultrabooks accounting for 40% of all consumer notebooks sold by the end of the year.
Intel also said it has come up with a design method to make plastic laptop cases as strong as the more-expensive metal ones typically used in Ultrabooks, and that will reduce some of the cost of an Ultrabook, maybe as much as $25 to $75.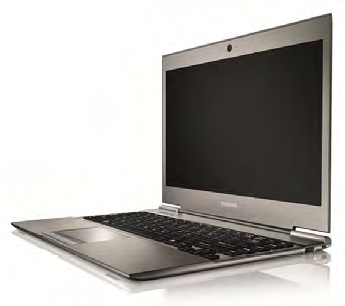 At Computex, Intel corporate vice president and general manager of the PC Client Group Kirk Skaugen said the company is "putting its money where its mouth is" in delivering innovations to its up­coming third-generation Core Ultrabooks, which will run Windows 8 OS.
Despite a higher retail price, Intel expects touch Ultrabooks will be well received by the market and has entered agreements with four Taiwanese touch-panel makers to increase the current ca­pacity for touch-enabled Ultrabook con­vertible designs by three to five times.
The company has signed agreements with TPK Holding, Wintek, Cando, and Hannstar Touch to ensure there is ca­pacity for 13-inch and above touch panels for the expected growth of touch Ultrabooks.
In addition to investing in enabling touch-screen displays across most of its Ultrabook products, Intel said it is working on a series of "innovations."
After some on-stage messing around, and a karaoke session, the curtain behind the stage fell, showing 50 Ultrabooks behind Skaugen, and every one of them displayed the words "Thank you!" in both English and Chinese.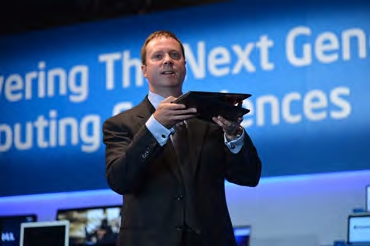 Skaugen said that "users love touch" and that Microsoft's Windows 8 release later this year will make Ultrabooks "more popular."
One new feature in particular we'll see, Skaugen said, is "touch-to-unlock" on Ultrabook login screens instead of a text-based password, so users can log in with a gesture. There's also an option to log in with your face, if preferred.
There will also be the addition of various sensors, the first being theft pro­tection technology. This detects when a user has left her Ultrabook unattended in a coffee shop, and if it gets picked up by someone else, alarms will sound and the computer's data will be locked.
In addition, a wireless charging ap­proach was mentioned for the smart­phone, which makes it possible to re­charge the phone by laying it down next to the Ultrabook, and a Siri-style voice activation control powered by Nuance's Dragon software.
Jon Peddie is President of Jon Peddie Research, publisher of TechWatch and GraphicSpeak