Adobe's Michael Gough makes the rounds to prepare customers for Project Mighty and its sidekick Napoleon. Product to ship in first half of 2014, which means pretty darn soon.
Was it just last Spring when Adobe introduced its Project Mighty pen and Napoleon ruler? Yes, although it seems ages have passed, it was less than a year ago at the Adobe Max user conference. Adobe's move into hardware was a surprising though not unprecedented move. At the time, the company demo'd the tools and cautioned they were simply being revealed as a technology demo – no guarantee they'd actually be produced. No one believed them for a minute. They already looked like products with slick industrial design by Robert Brunner's Ammunition team.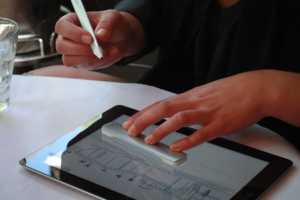 And as it turns out they were just about ready, and in September 2013, Adobe announced Mighty and Napoleon were on track to be released as products. The company also named Adonit as their partner to make the pen and said it will ship in the first half of 2014.
At South by Southwest, Adobe's VP of Experience Michael Gough, who leads Adobe's hardware experiments including the Mighty and Napoleon projects, showed up with the tools in hand to talk more about why Adobe is making the pen. One key point he wanted to make was that Adobe's exploration into hardware isn't really the diversion it might seem. Rather, he said, Adobe's work in hardware helps to make them better software developers. Adobe's attitude about a lot of things has changed, he says, as the company interacts more closely with its customers through cloud tools, subscription and through explorations like Project Mighty and Napoleon.
Hardware and software have always been pals, but as the digital age marches on, they're increasingly married in devices with custom-built software. Also, ever-present Internet connections mean software can evolve with us or with the vendors' desires. As Apple has demonstrated, there are opportunities for real differentiation and optimization when the hardware and software design can happen in tandem. Microsoft has been attempting to get the same synergies with its Surface tablets. Samsung has trudged down this path with mixed results in its phones and tablets.
Adobe likewise believes they've leveraged the relationship between the hardware platform and the software to create their new drawing peripherals. In a visit at SXSW, Gough showed us how the pen has been engineered to overcome the iPad's design for finger input. Because Apple's designers, and Steve Jobs in particular, were convinced that people would not carry around a stylus, the iPad was designed to respond to a 6-mm input area, about the size of a finger. It works; if you like drawing with the eraser side of a pencil. Adobe has built on the work done by Adonit for their Pixelpoint technology for iOS devices. Adonit's Pixelpoint technology works with capacitance screens and Bluetooth. Capacitive screens have unique signatures. When a Pixelpoint device detects the capacitance signature of the touch screen, it inverts the signature and sends it back – now the two are in happy alliance via Bluetooth. If you can't wait for Adobe, Adonit's pen is the Jot Script pen, which has a 1.9-mm point and sells for $74.99. It has been optimized for Evernote.
Likewise, the Adobe version has a fine point but it's a thicker triangular pen which fits really well in the hand. At first glance, Mighty looks chunky, but the feel is good and Gough assures us the pen is ambidextrous. "A lot of our customers are left handed," he notes playing right into the stereotype that left-handed people are more creative. Actually, Gough believes all people are creative. He says as powerful as digital tools may be, they have also taken something from us including the hand-to-brain connection that comes with drawing on a piece of paper.
The software is the trick. Adonit and Adobe have worked together to make the pen provide a responsive and tactile feel. It can draw smooth curves and there are predictive algorithms so the pen doesn't feel like it's lagging. Adobe has added on customized features for Adobe's products. The new Adobe stylus has brains, at least a certain amount, so it can hang on to your preferences, and you can use the pen on any device and your preferences will travel with you just like the pen in your pocket. The ruler is pretty smart, too. Placed on a tablet, it can project straight lines—that's simple stuff. It can also call up any number of curves and splines and also common line drawings that might be used in a drawing, such as a desk, telephone, hat, etc.
As Adobe reaches out to larger audiences, it too is hoping to find and nurture the creative spark within people. Gough didn't talk about it but Adobe also demonstrated digital layout tools for publishing that could replace the boards we once used in magazine publishing – actual platforms for the laid out pages with pasted up type and images ready to go to the printer to become plates and printed pages. At Max Gough demonstrated monitor screens that would allow pages to be swapped, elements moved, and overall looks change. Adobe has not mentioned any actual products to come from these experiments but they're certainly evidence that Adobe has quite a bit going on in hardware development. Not only is the company looking for better ways to create content, it's looking for ways to regain what we may have lost in a headlong rush to digitize.
What do we think?
Adobe does not plan on keeping what they've learned to themselves. Gough says he is looking forward to the appearance of more drawing tools for the iPad and also more applications that can take advantage of better drawing tools. We're thinking that there are a lot of iPad people out there just longing for a more precise pen and Adonit is likely to benefit from the increased awareness their partnership with Adobe will bring.
So, you might well ask, what about Android and Windows based tablets? Gough is open, but for now he sees the real opportunity on iOS platform because there really aren't as many alternatives.  Wacom, N-Triq, and others are making pens for the other side of the Apple fence. Sticking with iOS for now, gives Adobe a standard technology for their pen that they can continue to optimize.

Related
Adobe commits to subscriptions; promises goodies
Adobe goes all-in with Creative Cloud