HP unveils its take on a tablet-mode mobile workstation.
By Alex Herrera
Describing an industry as mature tends to connote visions of conservative businesses that follow established design formulas and serve equally established markets, with adequate but uninspired products. Though it would qualify as mature by virtually any sensible measure, the workstation market exhibits none of those traits that adjective might suggest. And no vendor in the industry has bucked the impression of a staid business any more than HP, both an industry pioneer with an impeccable pedigree as well as a cutting-edge innovator in today's market. Its latest workstations, starting with the Z2 Mini earlier in 2017 and most recently with the ZBook x2 detachable workstation are perfect examples.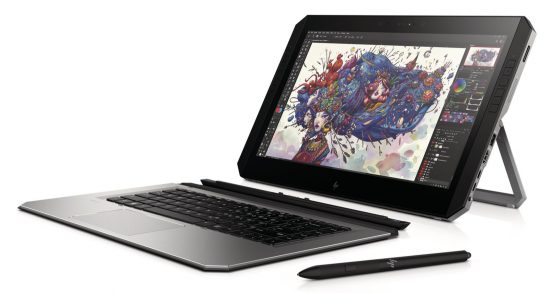 With its burly magnesium enclosure, the ZBook x2 meets MIL-STD specifications and is ready for work in the road and the field. Supporting an Nvidia Quadro M620 GPU and both Intel's most recent Kaby Lake (Core i7- 7000 series) and Coffee Lake (Core i7/ i5-8000 series) processors, the ZBook x2 can compete on performance with mainstream mobile workstations. The entry-class M620 is the same GPU powering HP's nearly-as-svelte Z2 Mini. HP complemented those processors with up to 32 GB of DDR4-2133 non-ECC memory and its own Z Turbo Drive SDS storage (up to 2 TB), leveraging NVMe technology for maximum I/O throughput.
Last but certainly not least, the ZBook x2 comes outfitted with not just any run-of-the-mill tablet or mobile workstation display. With 4K (3840×2160) resolution in a 14-inch size, the ZBook x2's display is beyond "Retina" level, as the human eye can no longer distinguish individual pixels viewed at typical distances from the screen. Reflecting its positioning for image-focused creators, the display is Dreamcolor-caliber, supporting one billion colors with 100% Adobe RGB gamut coverage. And with use expected outside and at a much wider range of viewing angles in tablet or detach modes, HP made special efforts to eliminate glare with a "chemically etched treatment at the front surface."
A jack-of-all-trades with four operating modes
As a detachable mobile machine, the ZBook x2 can operate in ways other workstations can't. In touch-based tablet mode (3.64 pounds and 14.6 mm), professional ZBook x2 users can rely on a battery-less pen (based on Wacom EMR technology), supporting 4,096 levels of pressure sensitivity and multidirectional tilt, along with an eraser. Non-tablet modes leverage a sleek, industrial Bluetooth enabled keyboard. Dock mode turns the ZBook x2 into a serviceable (albeit entry-level) deskside workstation, dovetailing perfectly with HP's existing Thunderbolt 3 connected ZDock, supporting the company's line of more traditional mobile workstations. With the ZDock, the ZBook x2 can drive up to five total displays, or a maximum of two at 4K resolution.

HP the logical vendor to pursue such a machine
It was only a matter of time before a workstation OEM came out with a professional-caliber machine that could act as a tablet. One could argue Microsoft was the first OEM making that move with the Surface Pro. And while that product does fit the bill in terms of form factor and polish, it's lacking the innards — most notably a discrete workstation-caliber GPU — to effectively meet the demands of visually intensive professional workflows that workstations are built for. HP claims the ZBook x2's Quadro GPU can outperform the Surface Pro's Intel-based graphics by 73%.
It makes sense that HP would be that OEM, for two reasons. Among Tier 1 OEMs, it's repeatedly proven willing to gamble on different and innovative approaches that depart from the standard workstation formulas. And other, second tier OEMs that might also gamble don't tend to have the resources to build a machine on a completely different form factor than the standard supply chain can support.
Entry-level in performance but top of-the-heap in flexibility, the ZBook x2 won't appeal to the breadth of the workstation marketplace. Rather, HP has in its sights a very sensible segment of the market that values the utility and doesn't necessarily need best performance: creatives and whose work primarily consists of imaging and 2D graphics, relying on applications like Photoshop and Illustrator. Its fit in these spaces should be accentuated when considering use in emerging cloud-based workflows like Adobe's Creative Cloud, where computation and rendering isn't always focused on the client. And looking deeper into the cloud computing models, the ZBook x2, especially with its ZDock support, could find particular appeal as a virtual workstation client as well.
Alex Herrera is a senior analyst at Jon Peddie Research.