Bigger and gaudier than ever, the Consumer Electronics Show is still the place to see what might be the next big deal.

By Jon Peddie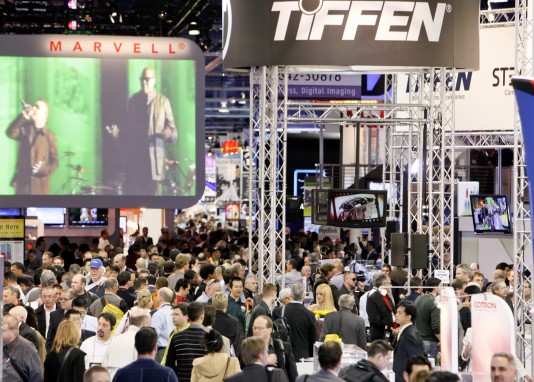 The first CES conference in New York City in 1967 attracted 17,500 dealers looking for the next CE products. Last year, just wobbling out of a recession, the show had a surprising 126,641 visitors and a slight drop of exhibitors (2,500 compared to 2700 in 2009) and a smaller exhibit area (1.4 million square feet. compared to 1.7 million in 2009).
Attendance was up at CES 2011; first estimates are something north of 130,000 (maybe as high as 140,000) and 2,700 exhibitors. It felt crowded, and if you've ever needed a taxi, bus, or the tram at a large trade show you know what I mean.
I've often questioned the value of this and other mega un-focused trade shows. Having just been to the Grand Bazaar in Istanbul I am struck by some of the similarities, and I'm probably not the first one to notice.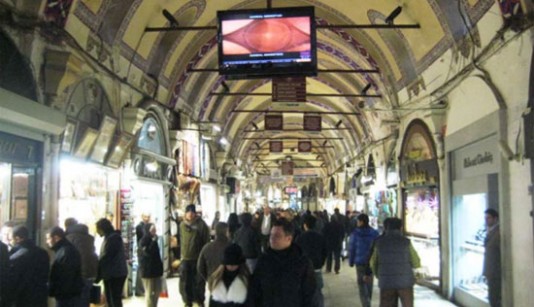 Just as you can find dozens of carpet merchants at the Bazaar, there were dozens of tablet suppliers at CES. Just as there are many lamp merchants at the Bazaar, at CES there were a lot Sandy Bridge-based PC and tablet merchants. At the Bazaar we found dozens of stalls selling watches and jewelry; at CES their equivalent were the many dozen ARM-based products.
And like the Bazaar, most of the hundreds of people crowding through the hallways were lookie-looks and not buying anything. Who is the target at CES, the 5,000 members of the press and blogger society that attend? CeBIT, which drew 334,000 visitors in 2010, had only 5,000 press and media—37% of the ratio of CES.
And if CES is all about consumer electronics and what consumers will want to buy, why wasn't one of the biggest CE suppliers—Apple—in attendance?
Now truth be told, I have been in booths where major buyers (like Best Buy) were talking with the exhibitor, discussing schedules and prices. Hard to imagine Best Buy had to send a team to Las Vegas, but there they were. And I have noticed lots of name badges with the title, "Buyer" on them. And sure, they were from small Mom & Pop no-name shops in the boondocks, but that makes sense—for little operations CES is the grand bazaar.
CES is THE place to knock off a lot of meetings at once
But do you really think a company like Samsung or Philips spends several million dollars to go to CES to meet Billy Bob from Billy Bob's TV appliances and repair in Grand Forks? How many baubles will Billy Bob buy?
So if the major chains do come to CES to shop, then why does the show have 120,000 visitors? Who needs them?
The OEMs like AMD, Qualcomm, Nvidia, etc., tell me they like the conference because it brings all their customers together at once.
CES is THE place to knock off a lot of meetings at once, one supplier told me.
And the meetings, OMG the meetings
Every hotel was jammed full with meetings and private suites showing future and current stuff. I almost get the impression the suppliers put up with the conference for the Mom & Pop shops so they can have a suite for the really big deals.
Trendy
CES can be good for spotting trends, but sometimes after the fact. This year it was Internet-enabled everything. Well I remember back in the dot.com bubble it was Internet everything, but that didn't happen and maybe now it is.
Every self-respecting CE supplier was touting their app store; thank you very much Apple for showing us how to do that.
There was some, but not a lot, of stereovision. The big guys like Samsung, Sony, and LG of course were showing it, but it was one or two displays, not a whole booth of stuff.
Smart phones, dumb phones, and phones in things could be seen all over the place—hard to pick a trend out of that.
There was usual array of over-amped car stereo systems and slick looking cars. I get a better sense of dealer-supplier interaction in the car accessory section than almost anywhere else.
New tech
CES can be the place to see new technology which may or may not make it in the market place. Usually such viewings are in hotel rooms, or meeting rooms in the booth or in the back of the South Hall.
I've seen many wondrous and fabulous things in such meeting and hotel rooms, and many of them, maybe most of them never made it to market. CES is a good place to do test marketing of new ideas and products. Kind of like a giagundus focus group, but a focus group of analysts, experienced reporters, and most of all, prospective customers.
Too big? Split it up
Yeah, I think CES is too big and should be broken up into three shows, and separated by a few days. I suggest they run Auto days one to three; actual CE devices, (TVs, PCs, etc.) days three to five; and technology and the stuff inside the boxes days five through seven. Also, I'd like to see more hall concentration. Autos in North hall as it is, CE devices in the Center hall (sorry Intel and Microsoft you'll have to move) and technology (chips, subsystems, etc.) in the South hall. After day three the north hall is closed, after day five the Center hall is closed. This would spread the visitors over more days, ease the congestion, and focus the demographics of the attendees.
Of course multi-product companies like Microsoft are going to have to have two or maybe three stands, one in each hall. Which if you've ever wandered around in the giant booths like Microsoft's or Panasonic's you can get totally lost. It's worse than being lost in a casino, more like being lost in The Grand Bazaar.
Jon Peddie is CEO of Jon Peddie Research, the publisher of GraphicSpeak.