Organic inspiration at the earliest stages for automotive design engineers.
Auto manufacturer Daimler AG has officially certified SolidThinking Inspire for company-wide use. Part of the HyperWorks engineering suite from Altair, SolidThinking Inspire enables design engineers to quickly create and investigate structurally efficient concepts.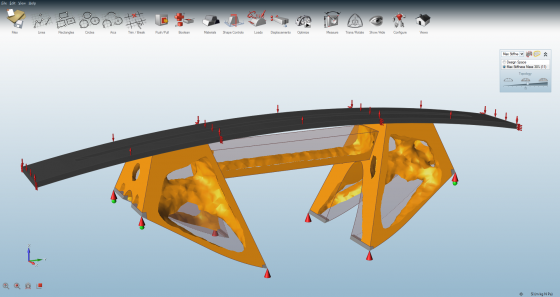 With the Daimler certification, all design engineers within the car and truck development departments of the company may now use SolidThinking Inspire within their projects, giving them an opportunity to create efficient structures with minimum weight. This works for components, assemblies, and entire systems. Design engineers may also use SolidThinking Inspire to apply a required stiffness on a component where needed, helping to avoid undesired vibrations and contributing to overall vehicle comfort and quality.
"Historically, the sophisticated optimization technology contained within SolidThinking Inspire was only available to simulation specialists. This technology can now be used where it offers the greatest return— within the concept phase of a new development project," said Pietro Cervellera, Managing Director Altair Engineering GmbH.
With this certification, the tool becomes available to all design engineers using HyperWorks, already a standard at Daimler. Altair says traditional structural simulations allow engineers to check if a design will support the required loads, while SolidThinking Inspire enhances this process by directly generating an optimal new material layout within a given design space using loads as an input.
One novel aspect of SolidThinking Inspire is its use of biomimicry, the use of patterns found in nature as patterns for industrial design.
What do we think?
The automotive industry is always looking for ways to create more structurally efficient designs to meet global emission regulations while improving product performance. Daimler has decided to pursue simulation-driven design to help achieve their goals. The sooner major decisions can be made during the design phase, the more money and time can be saved overall. Moving this key part of simulation into the initial conceptual design phase helps design engineers follow functional and resource-efficient rules early in the process. The biomimicry capabilities in SolidThinking Inspire will help create designs that are more organic in style.