The annual reception for those with 20 or more years in CG fields is headed to Singapore November 30. The group runs a mentorship program and find other ways to give back to the professional community.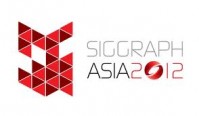 The Siggraph Computer Graphics Pioneers reception has become a popular event each summer at Siggraph in North America. Now the popular special interest group (SIG) is hosting its first reception at Siggraph Asia.
The Computer Graphics Pioneers reception at Siggraph Asia 2012 invites all Siggraph Asia attendees who have worked in the CG field for at least 20 years to gather November 30, 2012 from 6:30pm onwards in the Foyer Space in front of Rooms 214-215 in the Singapore EXPO Convention and Exhibition Centre.
This year's reception is sponsored by Jon Peddie Research, The Khronos Group, and Nvidia. JPR's Jon Peddie will make a few opening remarks.
Siggraph's Computer Graphics Pioneers provide mentoring for those interested in the computer graphics industry, and the group functions as a networking tool for finding future work. For more information about becoming a part of the group, contact Jon Peddie. The group is especially interested in finding pioneers outside North America.
More about Computer Graphics Pioneers
The Computer Graphics Pioneers is a networking, mentorship, advisory, and philanthropic organization.
The group gathers yearly at a reception during the ACM Siggraph conference to meet old friends, make new ones, enjoy food and drinks, and listen to a distinguished speaker from the computer graphics community. The reception is typically on Tuesday evening of Siggraph week from 6-9pm.
In 2003 CGP started the Spend a Week at SIGGRAPH Student Program, in conjunction with the ACM Siggraph education committee, to bring high school sophomores and juniors to Siggraph for a week. Computer Graphics Pioneers act as on-site mentors for each student. This program has been enormously successful! Spend a Week at SIGGRAPH is funded and run entirely by the Pioneers. If you are interested in becoming a student mentor or if you want to give financial support to this worthwhile effort, please send email to Dave Kasik ([email protected]).
The Pioneers are passionate advocates of computer graphics and interactive techniques. We share our opinions with the ACM Siggraph Executive Council and Conference Committees to help shape the organization's future direction.
Membership is earned after 20 years of contributions to some aspect of computer graphics andor interactive techniques. All members of the computer community are welcome, engineers, academics, artists, sales and marketing representatives, etc.
Members commit to perform some service to the computer graphics community. This service may include conference or journal paper reviews, financial support of the mentoring program, serving as a mentor, or some other service as needs or opportunities arise.