The new Surface tablet has some unique characteristics. But iPad is a monstrous success because of supply chain genius as well as clever design. Can Microsoft match?
Microsoft surprised just about everybody yesterday when it introduced a new hardware product, the Surface tablet. The immediate comparison is to iPad, of course, but a closer look reveals this might be a cross-category product that, if successful, impacts the notebook computer market as well as the tablet market.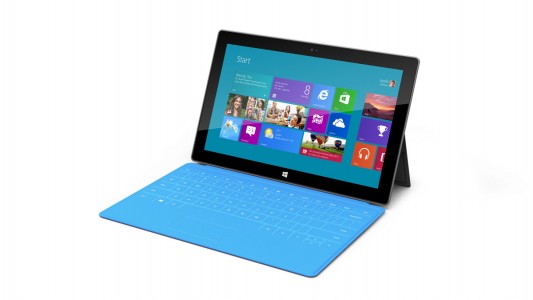 Surface will actually be a line of products based on two CPUs. All will run using the next generation of Windows, which is expected later this year. Windows 8 marks a departure for Microsoft; it will be released in two versions. Window RT, a "light" version, will run on ARM-based CPUs. There will also be a "full" release of Windows 8 that run on x86 compatible CPUs, as always. Surface follows this pattern, with an ARM-based model that uses the Tegra CPU from Nvidia, and an x86 model that will use an Intel Ivy Bridge CPU.
All models of Surface will be the same physical shape, with a 10.6-inch touch-screen wrapped in a thin, sturdy magnesium case Microsoft calls VaporMg ("Vapor Mag"). As shown in the attached photo, the Surface tablet comes standard with a "kick stand" magnetically attached cover which folds down to function as a full touchscreen keyboard. Microsoft says it will release the ARM-based version first, in the third quarter of 2012; the Pro version of Surface using the Intel CPU and full Windows 8 will follow approximately 90 days later. No prices have listed for the devices, which will vary in memory capacity from 32GB to 64GB, but Microsoft is suggesting the ARM version will be comparable to iPad in price.
Microsoft held this announcement close to its corporate chest. Reporters were invited to an event in Los Angeles, but were not told the exact location until yesterday morning. All the design work and planning was done in-house; there are reports in the tech media that Microsoft did not tell key PC partners such as Hewlett Packard, Lenovo, or Dell about the Surface tablet until only a few days ago.
The RT and Pro versions may appeal to different markets; the RT will be compared to iPad and various Android tablets; the Pro version may well compete not against tablets from other vendors but with the new crop of Ultrabooks running Windows. The standard availability of touch typing presents an obvious competitive advantage against other tablets, if the device gains popular acceptance.
By the way, PTC says Surface was designed in Creo, as was Microsoft Kinect.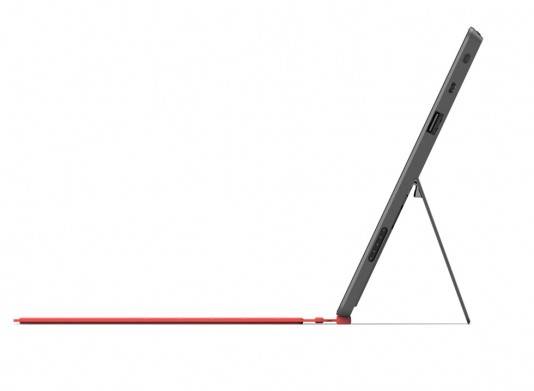 Price and apps are key
Microsoft has a mixed history as a hardware vendor. In the company's earliest days it had as many hardware products as software, with add-in memory boards, keyboards, and mice among products that were well respected. Later products met with mixed success, with some key flops thrown in for good measure. Today's Xbox and Xbox Kinect are perhaps Microsoft's most successful hardware products in its history.
There will be two keys to success for Microsoft Surface tablets, price and apps. Both depend on an outside ecosphere. The price of the tablets heavily depends on great deals across the entire length of the supply chain. The Apple iPad is lauded as a design hit, but if Apple was not a master of supply chain magic the first iPad could well have cost $1000 and not $499, greatly limiting its appeal.
The apps ecosphere is equally important. Apple and Google Android both have hundreds of thousands of developers. It is an open question if Microsoft can convince those developers to accept the Windows RT platform as a serious third platform. RIM's PlayBook tablet came out with a nice design and an affordable price, but apps developers avoided it like the plague.
Microsoft Surface specs
Surface for Windows RT
OS: Windows RT
Weight (1): 676 g
Thickness (2): 9.3 mm
Screen: 10.6" ClearType HD Display
Connectivity: microSD, USB 2.0, Micro HD Video, 2×2 MIMO antennae
Standard Features: Office '15' Apps, Touch Cover, Type Cover
Memory: 32 GB, 64 GB
Surface for Windows 8 Pro
OS: Windows 8 Pro
Weight (1): 903 g
Thickness (2): 13.5 mm
Screen: 10.6" ClearType Full HD Display
Connectivity: microSDXC, USB 3.0, Mini DisplayPort Video, 2×2 MIMO antennae
Standard Features: Touch Cover, Type Cover, Pen with Palm Block
Configurable: 64 GB, 128 GB
(1), (2). Actual size and weight of the device may vary due to configuration and manufacturing process.