Designer rethinks the human-computer interface with a two-handed approach
Ming Kong, a graduate of the Royal College of Art, presented his design for a new type of input device at the College's Graduate Show. The new design will form the basis of a new business for Kong and his partners. The device might look like a spare part from an alien spacecraft, but it's more like a control device for the future.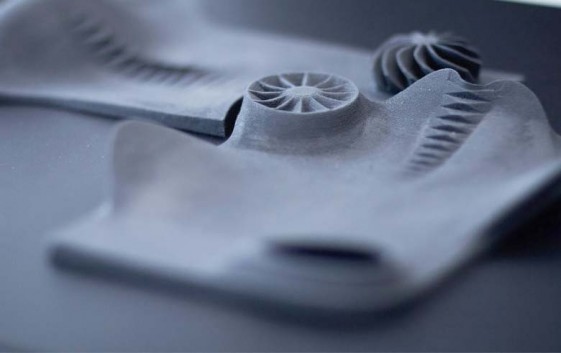 Frustrated by the limitations of current input devices, Ming set out to build an input device that could communicate a wealth of information but would also be intuitive and a pleasure to use. "I believe there has always been a place for tangible, tactile interactions, and even more so today when graphic interfaces are overloaded with information," he said. Kong wanted to explore how an input device could "capture nuance and subtlety in-between fingers" as well as with direct input.
He experimented with materials to find the most tactilely appealing, and what he found was an a rubbery, conductive material with the enough elasticity to enable a range of gestures. The device is wired, and Ming has developed drivers for it. He is continuing that work with colleague Liucheng Guo, who is completing his PhD in hardware/software co-design at Imperial College London. Guo will also be a partner in the new venture.
Ming sees several obvious markets for his device, especially gaming design, including CAD and conceptualization, 3D modeling, and art. Ming's run at creating an interface was as an input device for MaxMSP audio-editing software. Basically, he explored shapes to create a new type of knob to manipulate typical audio controls, pitch, volume, etc. Ming says he has chosen the shapes according to their ergonomic qualities and electrical sensitivity.
Next, Ming created his curved surfaces to add trackpad functionality. The device can sense the speed of touch, and pressure. Users can pull, push, stroke, squeeze the shapes. Ming's prototypical device is two-handed. The right hand controls the navigation, and the left is responsible for shaping. The controls are designed to be natural and include rounded protrusions for panning, a spiral to rotate, and a textured channel along the top to move up and down. The shapes on the left are used for selecting, dragging, and pulling the model.
Key to Kong's thinking is his desire to create an input device that is designed from the start with an awareness of how it will be used, and with what kind of software. In this, he is very much a part of the new breed of designers who are thinking about software and hardware design simultaneously. "I was frustrated how interface products are being designed. PCBs, sensors, and all the electrical components are decided, and designers are asked to literally deliver a package. I was exploring how to create a new way of designing interfaces so that the form is determined by comfort and intuitiveness. I picked sound as the first testing context, because it is something linked more with imagination, and the malleable and sensitive nature of the material would make a lot of sense," he said.
When asked about multi-touch for the device, Kong said that it does support multi-touch but he wants to go beyond conventional implementations of multi-touch. "Think about pressing into the surface. Why do you need to use two fingers to zoom in? A lot of interaction technologies would change with an awareness of 3D."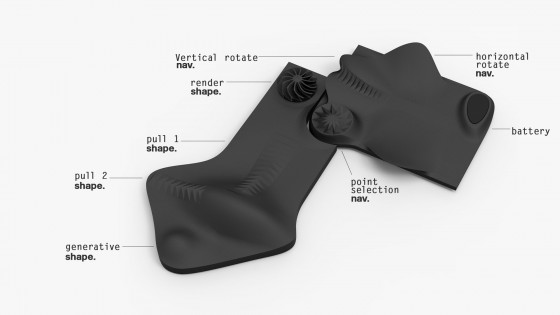 Ming has filed a patent supported by the Royal College of Art's incubator program, InnovationRCA, Battersea, through which he is also planning for a startup. He is first targeting gamers and CAD software users and potentially launching a crowdfunding product. That product will be geared toward current CAD and graphics tools. They are actively seeking funding and experienced end users to test products. Ming says he has heard from car interior designers who are interested in their work for an in-car controller that can handle multiple functions without requiring the driver to look away from the road. Kong and Guo are also thinking about how the device could be used as a sculptural interface.
What do we think?
As this story was being developed, I had to fight off the gamers in this office, who want to play with the device immediately. With its sensual curves and space-age look, Kong's design also seems likely to appeal to industrial designers. The one thing we all know is that a mouse just can't be the best interface possible for any kind of creative work.