The Belgian alternative to AutoCAD continues to push the .dwg envelope.
Bricsys has released a beta version of a new building information modeling (BIM) module for its BricsCAD design software. The add-on module works with both the Pro and Platinum edition of BricsCAD V13.2 in 32-bit mode.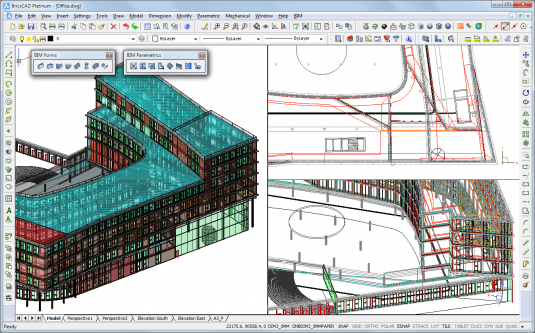 The release of the BIM module is in keeping with the Bricsys core philosophy of "Unified CAD," allowing designers, engineers, and developers to continue using the familiar .dwg format popularized by AutoCAD. Bricsys is a leading alternative provider of .dwg-compatible engineering tools for those who want to stay in a .dwg-centric workflow but who also want vendor alternatives. In recent years Bricsys has worked to make its BricsCAD software into a foundation for third-party developers, who have created a wide variety of CAD-based software tools in small markets, such as civil engineering for Turkish or factory layout in Polish.
The English language version of the BricsCAD BIM Module beta for the Windows environment is available for immediate delivery and can be downloaded from the Application Catalog on the Bricsys website store or obtained from a BricsCAD dealer in one of more than 70 countries worldwide.
Our take
Bricsys continues pushing the limits of what's possible inside the .dwg file format. Autodesk doesn't call AutoCAD a BIM solution, although it remains the number one architectural drawing tool on the market. But Bricsys intends to provide the market with a fully 3D BIM engine in .dwg.
It's not like Bricsys CEO Erik De Keyser and his team are new to architecture or 3D. The company's origin story includes the development of a 3D architectural CAD product which it sold to Bentley; the proceeds funded the start of Bricsys. For more than a year Bricsys has been shipping 3D mechanical design software that does things most people thought could only be done in a "pure" 3D environment.
There is some concern Bricsys is taking away market opportunity from its third-party development partners by bringing BIM to market themselves. But, as with their mechanical design solution, Bricsys sees the way forward in providing the foundational tools and leaving localization and advanced specialization to the partners. One partner, UK visualization vendor Lightworks, has already announced support for the BIM module.