New initiatives in cloud and mobile are the tip of the iceberg for the technically aggressive company. London proves to be a fitting setting for a discussion of infrastructure design and operations.
In a wide-ranging briefing for more than 150 members of the press gathered in London, Bentley Systems presented itself on Monday as a global leader in infrastructure design and operations. The presentation was so information-dense that among the many handouts and press releases was a guide to all the handouts. The specifics were daunting, but the overall message was clear: Bentley Systems is working hard to deploy the best of new computer technologies, including Software as a Service (Saas), into the world of infrastructure, where the largest construction projects are designed and built by the largest AEC firms and deployed by the largest owner/operators.
Some of the many announcements were of product updates and promising new technologies in various stages of testing and limited deployment. Others helped Bentley present itself as a software firm with a global reach in every aspect of construction and infrastructure operations.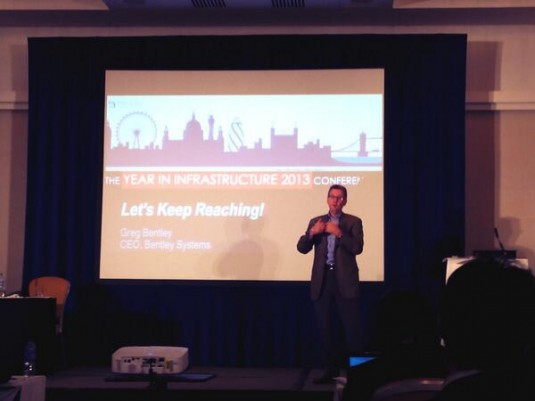 Bentley has many customers in London, home to several of the world's largest architecture firms and the center of a massive infrastructure build-out that started in preparation for the 2012 Olympic Games and continues today as Britain bets on improving and extending its infrastructure as a key to long-term growth and prosperity. More than 50% of Bentley customers in the UK now use Bentley ProjectWise (the AEC equivalent of a PLM system). Bentley COO Malcolm Walter noted he sees more cranes in the London skyline than he saw in a recent trip to Beijing.
Bentley is not a company for the small builder or sole architect. It annually compiles a list of the top 500 Bentley users, sorted by the dollar value of the infrastructure they build and manage. The 2012 list shows these users are responsible for $15.9 trillion in net tangible fixed assets.
Technical highlights from the day's discussions:
Bentley aligns with Microsoft Azure cloud technology: Bentley says it was not in a hurry initially to "move to the cloud" just because it was a hot oncoming technology. Instead it studied how it would expand into cloud services in a non-disruptive way. The end result, as explained by senior vice president Bhupinder Singh, is "not about moving to the cloud, it is about extending our capabilities with cloud services." Bentley has standardized on Microsoft Azure as its development platform, preferring Microsoft's commitment to hybrid environments that treat on-premise and on-demand computing resources as equals.
The phrase "complete the reach" was used often to describe new capabilities and services that blend traditional desktop and network computing infrastructure with cloud and managed services. Bentley now has 500 personnel devoted to developing the managed services business, in which Bentley would not only sell and service its software, but help host and deploy it using client resources, devoted Bentley resources, and the Microsoft cloud.
Connect paper drawings to the cloud: Paper drawings are still the primary information source on all construction projects. Bentley personnel showed how a new mobile app, currently in field testing, can show if a paper drawing is the latest revision (a common problem). The drawing has a bar code which the app uses to check the project server. A note pops up on-screen to say whether or not the drawing is the latest revision.
Asset Painter links 3D models to asset data: Crossrail, the behemoth UK project building a new passenger rail system in London, has been working closely with Bentley Systems on a technology for linking 3D engineering models with non-graphic asset data in a way that simplifies both the linking of data types and the use of all the associated information. Asset Painter continues to be rolled out on a test basis within Crossrail, and Bentley plans to introduce the technology more widely to customers in 2014.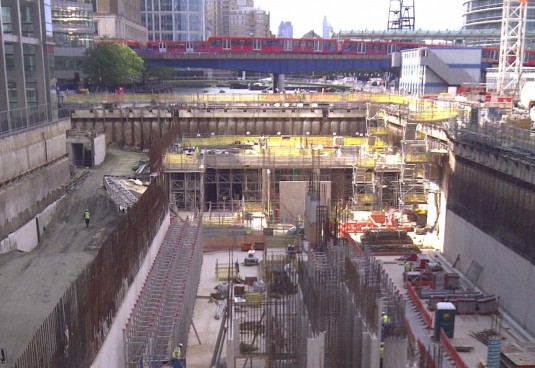 Hypermodeling connects 3D models to other documentation: First described by Bentley in 2011, hypermodeling is a way to more deeply link 3D engineering and architectural models to the various other forms of documentation created, from 2D drawings to laser-scanned point clouds, to the wide variety of non-graphics information generated by projects. Hypermodeling is not a single tool or app, but more a philosophy of data integration Bentley brings to the table. Robert Farrell is an engineering data specialist at UK-based Network Rail: "Hypermodeling has helped us increase the quality and speed of our interdisciplinary design coordination. Because hypermodeling enables us to directly superimpose greater detail and information within the context of models, completing design checks and communicating design intent is easier, faster, and more informative."
Point cloud streaming in MicroStation: Bentley's first product and still its flagship is MicroStation, for a generation the strongest 3D rival to AutoCAD in AEC. Bentley recently added to MicroStation support for streaming point-cloud data. Often measured in terabytes, point cloud data is information dense but traditionally hard to manage. The new technology allows MicroStation users to view any subset of a point cloud at any desired scale. Typical uses are to compare as-built to as-designed, improve measurement and dimensioning, and for other design review functions.
Field Supervisor app makes tablet a dashboard: Released in July 2013, Field Supervisor is an iPad app that provides access to all Bentley data repositories as well as popular enterprise information resources including SkyDrive, Dropbox, Documentum, Aconex, Box.net, Google Drive, and FileNet. A recent update improved its use for geospatial linking of project data, and the app is now available for iPhone; versions will be available "soon" for Windows 8 and Android.
Bentley to offer managed services: Bentley now has 500 "colleagues" (its preferred word for employees) in its new managed services initiative, bringing Software as a Service (SaaS) to its users. "We are prepared to be accountable and incentivized to gain revenue only to the extent that [our clients] realize value," said CEO Greg Bentley in describing the new service. The service will provide always-on and on-demand access to software and documentation as well as server and storage needs, using both existing client, Bentley, and Microsoft Azure resources.
Bentley's Year in Infrastructure Conference 2013 continues through Thursday. Follow the conference on Twitter using the search hashtag #YII2013.