The privately held AEC software developer is not required to provide detailed financial reports, but lets out tidbits annually. China is booming and subscription license revenue has recovered from the recession.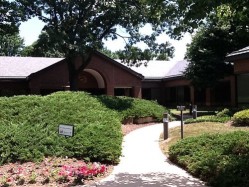 As a private company, Bentley Systems is not obligated to report its revenue or earnings the way public companies must, but for several years it has provided a limited look at its results anyway. Bentley generates considerable curiosity for two reasons; one, it is the largest software vendor dedicated to construction-related design and operations; and two, Bentley is one of the largest privately held software companies in the world.
Total revenue for 2011 was $523 million, up 10% by GAAP accounting standards. Bentley did not break out all geographic regions, but did say revenue from Asia/Pacific was up over 30% to nearly $100 million in 2011, for 19% of total revenue. The region was driven by strong growth in China. Last year Bentley CEO Greg Bentley said revenue from China was doubling every three years; in this week's report he upped it to doubling every two years. Bentley now has enough revenue in China to internally fund all necessary R&D to support localization. To get a better view of the new cash cow, the Bentley board of directors will meet later this year in China. Europe and the Middle East were characterized as showing "resilience," while North America was characterized at various times during a conference call with press and analysts as "flat," "nominal," and "sideways."
Greg Bentley characterized the overall market for their products by the four major categories of building, plant, civil, and geospatial. Most customers in building and plant are in the private sector; revenues from these areas are growing. Most customers in civil and geospatial are governments or contractors to government agencies; in the developed world these markets are stagnant. He says the company forecasts "modest" organic revenue growth of 6% in 2012, adding that 2012 is off to a very good start.
Subscription revenue is the heart of Bentley's income, accounting for 72% of revenue in 2011. Bentley has been an innovator in subscription plans for years. Its most recent wrinkle is license balancing, whereby a company can, for example, trade a currently unused license of MicroStation for a ProjectWise license. With more than 90% of revenue coming from direct sales, Bentley has the tight relationships necessary to tweak its subscription plans to keep customers happy and profits flowing.
During the revenue report, Bentley announced its first acquisition of 2012, the ElcoSystems software business of Hannappel Software GmbH, Wiesbaden, Germany. The software has already been a fundamental component of Bentley's Raceway and Cable Management and Building Electrical Systems products. Bentley plans to expand the use of the acquired technology into other products for electrical substation and process/power plant design.
During 2011 Bentley was able to finish buying back stock once held by Intergraph, which is now a subsidiary of Hexagon. Bentley family, employees, and a few other key individuals now hold 92% of outstanding Bentley stock. At one time Intergraph held 33% of the company.
Comparing Autodesk and Bentley
Bentley's largest competitor is Autodesk, but comparing total revenue of the two companies would not be a fair deal, since Autodesk is in several markets in addition to AEC. Autodesk does break out its AEC division numbers, which we have lined up with Bentley's total revenue for the last few years in the following chart.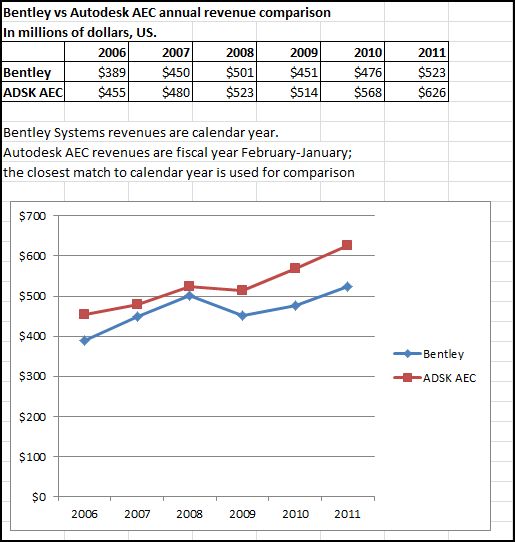 Bentley almost closed the gap with Autodesk in 2008, but got hit harder than Autodesk AEC during the 2009 recession. If Bentley hopes to come that close again it will have to continue to be an aggressive acquirer. To that end, it has announced a new $350 million line of credit.