Artists and makers are taking advantage of the tools and toys in surprising ways.  
By Russell Johnson
This is not your dad's tool shed. He may have a collection of C clamps, but A, M or Z clamps? Never. He also probably doesn't have a 3D printer … yet. He may have had some milling tools, but has probably never heard of CNC machines, Computer Numerical Control contraptions that drill, mill or cut with computer guided accuracy.
Here at San Francisco's Pier 9, Autodesk has built a playpen for artists, architects, furniture-makers, chefs and other creative types to make things on some very expensive machines. Autodesk's Pier 9 Artists in Residence program is DIY on Red Bull.
The Pier 9 Workshop is an offshoot of Instructables.com, the do-it-yourself web community that Autodesk acquired in 2011. In January, Autodesk had an open house to showcase some 70 works by more than 40 digital fabricators. "The artists push the limits of our tools and software to fit their needs," says Noah Weinstein, Senior Creative Programs Manager at Autodesk. "They share every step of their process on Instructables so we can all learn together new ways of utilizing technology to make things."
The creations here are what you might call data driven. Scott Kildall got data from the San Francisco Department of Public Works, plugged it into his CAD program and let a 3D printer built a model of the city's sewer system, manhole covers included. There are lots of manholes on Telegraph Hill.
Adrien Segal's creations involve water. She built a river canyon that maps water consumption in the US in the last half of the 20th Century using numbers from the US Geological Survey.
Stephanie Smith instructed a 3D printer to build a model of 10 hours of traffic in the Autodesk lobby, visits to the water cooler and all.
John Edmark created what he calls the Blooming Zoetrope, based on Fibonacci Numbers.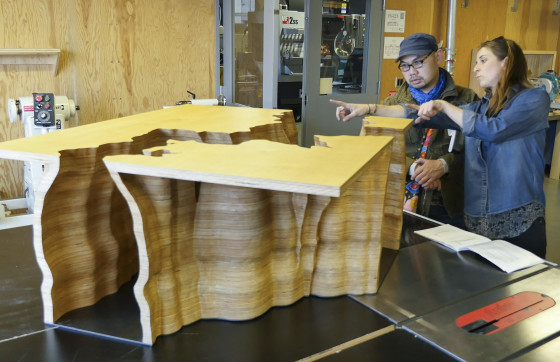 You may know that Fibonacci was a 13th Century math whiz who rediscovered some work of the ancient Hindus that plotted out numbers in a pattern that revealed what is called the golden angle, which appears in nature, as in the uncurling of a fern. Salvador Dali painted with the so-called golden angle in mind and many art instructors have attributed sort of an aesthetic voodoo to the form.
Edmark rotates his sculptures under a strobe light to expose one take every time the bloom turns 137.5 degrees, AKA the Golden Angle.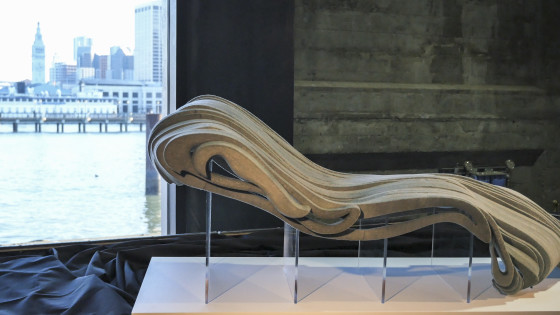 Paolo Salvagione created the effects of the Dancing Waters at the Bellagio in Las Vegas with string. A lot harder than it would seem as it requires the precise computerized control of a bunch of servos and motors.
These designs aren't entirely computer-built, however. Jennifer Berry uses both CAD design and BAD design—Bee Assisted Design. She starts by using software to design a frame and structure. Then she smears it with honey, sticks it in a hive and lets thousands of collaborators finish the job.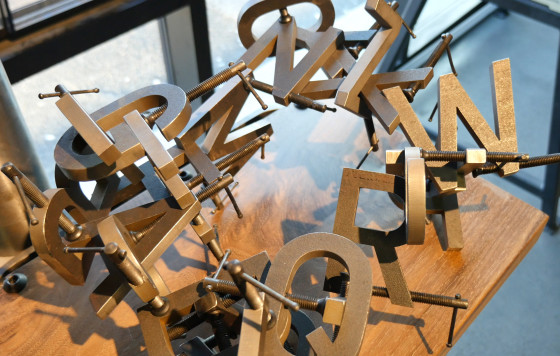 And while we're thinking out of the box, meet Robb Godshaw. Rob made news last year when he re-invented the wheel… the hamster wheel in the form of an office desk. Now he's back to giving new meaning to that simple staple of dad's old tool shed, the C clamp. Why not A, B, D, E, N, W he asks, but not I. Not terribly functional, that one. Certainly nothing your dad would fiddle with.
Editors' note: Photographer Russell Johnson also created a video to document his trip to Pier 9, below. Russell Johnson has developed media and educational programs for destinations, corporations and international organizations since 1984. His company TravelMedia Communications serves clients from all over the world from their offices in Sonoma, California. www.travelmedia.com.