As the first of its high-end products to be given a mainstream makeover, Smoke sets the Autodesk M&E agenda for product democratization.
It has been less than six months since Autodesk launched the completely redesigned Smoke for video editing, but on May 29 the first Smoke extension module will ship. Autodesk says the release will feature numerous enhancements for functionality, flexibility and speed.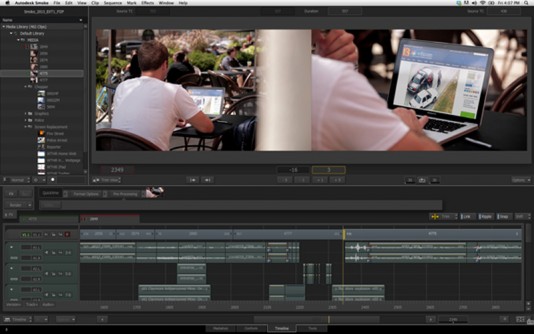 At the recent National Association of Broadcasters conference, Autodesk and Blackmagic Design announced a technology collaboration; the first fruits will be in Extension 1 as support for Blackmagic video IO devices: DeckLink (PCIe video boards); UltraStudio (Thunderbolt boxes) and the Intensity product line.
Other features in this update:
Trim View and new dynamic trimming tools for faster editing
Support for SonyRAW footage from Sony F5 and F55 cameras
Improved conform workflow with Apple Final Cut Pro X allows more accurate translation of speed changes and ability to conform ARRI Alexa ProRes files
Improved feedback mechanisms help editors better track background processes, monitor renders and identify errors
Improved performance in MediaHub when navigating large data sets
Improved 3D compositing performance in Action when working with 3D objects, shaders and textures.
Autodesk is continuing the Smoke free 30-day trial download, and offers a variety of video tutorials at the Smoke product center.
Our take
Autodesk's Media and Entertainment division has been stuck in a revenue funk for years. The set of high-end tools and middleware it acquired seem ill fitted in a company known for making professional tools available to the broader market, and the company knows it. The remake of Smoke is the first step in making M&E products more relevant and accessible, and so far it seems to be working.