New features include multi-touch support and expanded customizable tool options.
Today Autodesk updated SketchBook Pro for Windows and Mac, the desktop version of its popular freehand drawing software downloaded more than 11 million times. The new Version 6 features a streamlined interface, multi-touch navigation, French curves, synthetic paint and smudge brushes, plus additional brush controls to customize.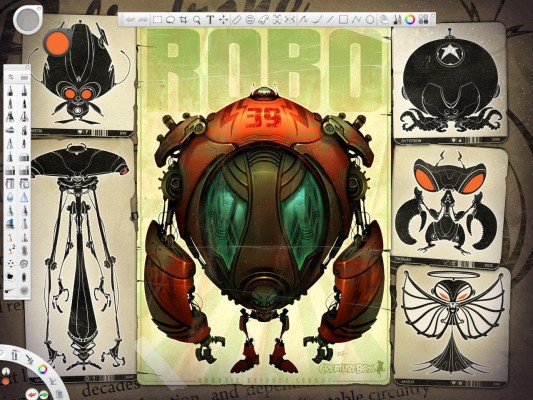 The updated user interface in SketchBook Pro 6 is designed to provide a more unobstructed and discoverable environment. Specific changes include a new Brush Palette, Color Editor, Layer Editor, pucks, and Toolbar. Several Guide tools—including new precision French curves similar to those found in CAD products—are also included in this update.
SketchBook Pro 6 includes more than 100 preset brushes, including pencils, paintbrushes, markers, airbrushes, erasers, flood fill tools, and smudge brushes. Brushes can be further adjusted and customized to produce a wide variety of character. Settings to randomize spacing, rotation, size, and opacity can be used to provide additional artistic options.
Autodesk says the new synthetic paint brushes included in SketchBook Pro 6 "behave more like traditional paint mediums." The brushes allow artists to adjust the paint load on the brush at the beginning of each stroke and dynamically blend colors on the canvas. A new smudge brush allows artists to brush over existing colors to blend them. Additional brush settings allow artists to control the variation of color, hue, saturation, and brightness of each stroke they make.
SketchBook Pro 6 is designed as a freehand artistic tool and does not contain tools for manipulating photos so that they look like paintings. The product runs on Microsoft Windows XP, Windows 7 and on Mac OS Version 10.6, 10.7, or 10.8 with Intel-based Mac systems only. The program reads many common image formats including TIFF, JPEG, PNG, BMP, and GIF. SketchBook Pro allows the user to set a preference to save background transparency for TIFF and PNG formats. The Adobe Photoshop format (PSD) is also supported, allowing use of layered sketches.
SketchBook Pro for desktop computers uses the same graphics engine as the tablet and smartphone versions, but is tailored to match the user interface and form factors of desktop computer. Autodesk recommends the use of Wacom or similar tablet device for optimal artistic input.