AEC and Manufacturing are doing well, but Media & Entertainment continues its long slide.  Revenue in coming quarters will be impacted by Autodesk's changing business model.
By Randall S. Newton
Autodesk today reported third quarter results of $555 million, up 1% from a year earlier. The company said strong sales of suites and a lift in the construction market helped to offset declines in platform products, media & entertainment, and the effect of their ongoing business realignment.
The recent shutdown of the US government cost Autodesk between 1% and 2% of revenue in the Americas region during the quarter. There were big deals in the pipeline that froze up, said CEO Carl Bass, because "there was nobody to call about the check."
Net profit for the third quarter of fiscal 2014 (ending October 30, 2013) was $57.6 million, up substantially from $29.4 million a year earlier. Bass said the quarter was a "good compare" in many ways.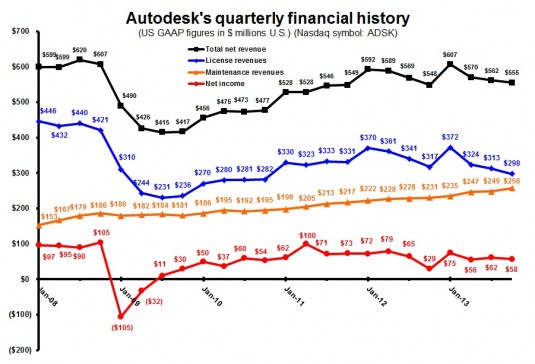 Revenue by regions and segments
Revenue in the Americas was down 1% to $208 million from a year ago, and was flat on a constant currency basis. During the conference call with analysts, Bass said when the "knuckleheads" in Washington DC shut the government down, it affected business.
Europe/Middle East/Africa revenue was up 4% to $204 million year-over-year, and up 5% on a constant currency basis. Results from Northern Europe carried the region.
Revenue in Asia/Pacific was flat at $143 million compared to the third quarter last year, but up 7% on a constant currency basis. Japan provides 40% of Autodesk revenue in the region, and its currency dropped against the US Dollar during the quarter, improving sales.
Revenue from emerging economies increased 6% to $84 million from a year ago, and was up 6% on a constant currency basis. Revenue from emerging economies represented 15% of total revenue in the third quarter.
Revenue from the AEC business segment was $186 million, up 13% compared to the third quarter last year. "Continued global adoption of building information modeling (BIM) drove double-digit growth within our AEC business," said Bass, who noted on the conference call with analysts that Autodesk recorded its first $1 million sale of BIM 360 during the quarter.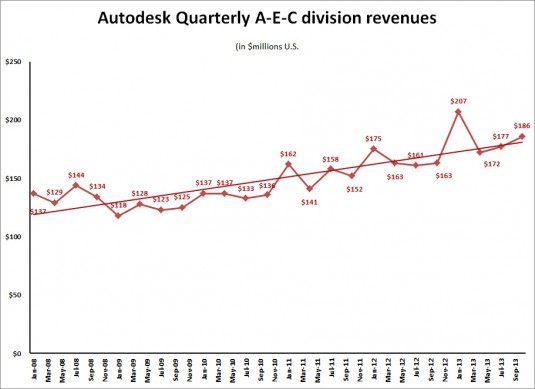 Revenue from the Platform Solutions and Emerging Business segment decreased 10% to $183 million from a year ago.
Revenue from the Media and Entertainment business (M&E) segment was $44 million, down 9% from a year ago. Revenue from animation products (Maya, 3ds Max, and Entertainment Creation Suites) was down 5%. Revenue from Creative Finishing tools decreased 22% from a year ago and 3% sequentially. Autodesk's M&E business continues its long transition from expensive seats for small markets to software priced for a broader appeal.
Manufacturing business segment revenue was up 8% in the quarter to $142 million. Bass cites "continued momentum" in automotive as a significant driver of the growth.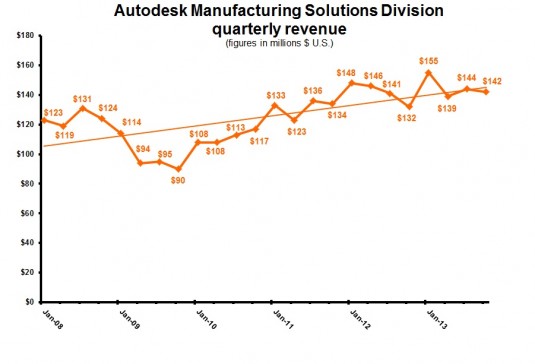 Revenue from Flagship products was down 9% to $275 million. Flagship products are stand-alone versions of the following products, which are also available in various suites:
3ds Max
AutoCAD
AutoCAD LT
AutoCAD vertical products
Civil 3D
Inventor family of products
Maya
Plant 3D
Revit family of products
Corresponding to the drop in revenue from Flagship products, revenue from Suites was $199 million, up 21% from a year ago.
Revenue from New and Adjacent products was $82 million, and was flat compared to the third quarter last year. "New and Adjacent" includes:
Alias Design products
Autodesk 360 products
Autodesk Consulting
Autodesk Simulation Mechanical
Autodesk Simulation Multiphysics
Buzzsaw
CF Design
Constructware
Consumer products
Creative Finishing products
Moldflow products
Navisworks
Scaleform
Vault products
All other products when sold adjacent to an existing seat.
Looking ahead, Autodesk says the ongoing transformation of its business model, to more heavily emphasize subscriptions and rentals, will cost the company approximately $50 million in lost revenue opportunity in the fourth quarter. Bass also told analysts he foresees a larger fiscal impact in the next fiscal year, and will provide details when the company reports fourth quarter results.
Part of the business change is the decision made at the beginning of the fiscal year to shift education business from selling to granting licenses. Autodesk estimates this decision cost the company approximately 2 percentage points of revenue in the third quarter.
Revenue by business model
License and other revenue was $298 million, down 4% from a year ago. Subscription revenue was $258 million, up 8% year-over-year. Net subscription billings (includes maintenance and cloud service billings) increased 11% compared to a year ago. Autodesk says the increase is related primarily to an increase in multi-year maintenance subscriptions (related to a pricing change in the third quarter last year, which drove early renewal activity in the second quarter of last year), and the increase in Suites sales, which have higher maintenance subscription prices.
Our take
An overall revenue increase of 1% may not sound like much to the average person, but Wall Street analysts are not average people. They look at today's numbers and see that Autodesk beat the street's consensus estimates for earnings per share (by 2 cents) and revenue (by $7.5 million), and conclude the company is doing well.
Autodesk is sitting on more than $1 billion in cash and around $1 billion in marketable securities. The purchase of British-based Delcam earlier this month might just be the first of other notable acquisitions of companies outside the US—where most of Autodesk's cash sits. Delcam's annual sales in 2013 will be close to $83 million, which will give a nice pop to the bottom line next year.
By historic standards, it was an anemic quarter for everyone in CAD and PLM. Most of the top vendors are going through transitions that will take several quarters to resolve. If the economy goes from flaccid to robust at the same time as Autodesk, Dassault Systèmes, and PTC finish their respective transitions, they could all be poised for some great quarters starting in 2015.
L. Stephen Wolfe, P.E., a contributing analyst for Jon Peddie Research, provided research for this report.
Five more of our custom charts follow. Larger versions of these charts are available at our Facebook page, www.facebook.com/GfxSpeak.