Despite going through a major transition, revenue was up 4%, but net income was down.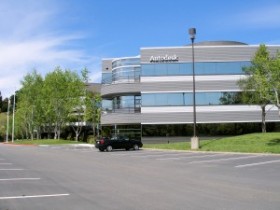 Autodesk (NASDAQ: ADSK) today reported better than expected first quarter results, given the company is going through a multi-quarter business model transition, moving away from selling perpetual licenses and into a variety of subscription-based offerings. Revenue for the first quarter of fiscal 2015 (ended April 30, 2014) was $593 million, up 4% from the year-ago quarter.  Autodesk shares were up 4.5% immediately following the announcement.
Autodesk says the results were driven by the core business segments of AEC and Manufacturing, plus strong results in Asia/Pacific. Subscription billings are rising as expected, to compensate for the declining emphasis on license revenue. The company also says billing and subscription revenue in the quarter were helped by end-of-year promotional activity that focused on upgrades and renewals.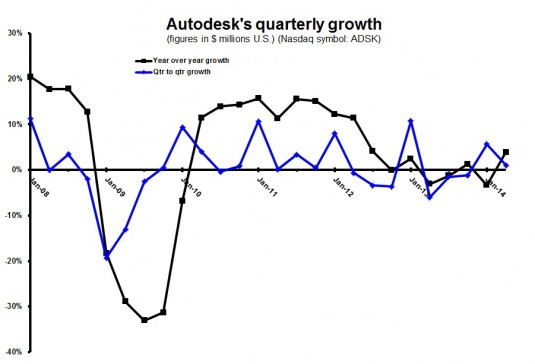 Net income for the first quarter was $28 million, down 49% from $55.6 million in 1Q14.
Revenue breakdown
Percentage comparisons below are all year-over-year.
License revenue: 316.2 million, down 2%
Subscription revenue: $276.3 million, up 12%
Revenue by geography:
Americas: $206 million, up 1.9%
EMEA: $226 million, up 4%
Asia/Pacific: $161 million, up 6%
Emerging Economies: $79 million, up 5%
As a percentage of total revenue, Emerging Economies held steady year-over-year at 13%.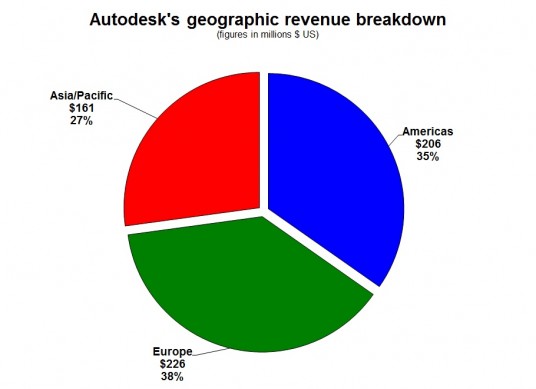 Revenue by product type:
Flagship products: $299 million, down 4%
Suites: $210 million, up 19%
New and Adjacent Seats: $83 million, up 1%
Autodesk says its customers continue to migrate to Design and Creation Suites, moving revenue from stand-alone products, impacting both the Flagship and New and Adjacent categories.
Revenue by business segment:
Platform Solutions and Emerging Business: $212 million, essentially flat
AEC: $196 million, up 14%
Manufacturing: $147 million, up 5.7%
Media and Entertainment: $38 million, down 19%
Combined revenue from AutoCAD and AutoCAD LT was $189 million, down 1% from a year ago. Autodesk says LT was stronger while basic AutoCAD was weaker, primarily because of increasing suites sales with include AutoCAD.  In AEC, suites revenue was up 36% year-over-year; Manufacturing suites revenue was up 6% from a year ago.
Regarding the continued decline in Media and Entertainment, CEO Carl Bass reminded analysts on today's conference the Animation side of M&E continues to do well. The Creative Finishing side of the business is in decline, not only at Autodesk but through the industry as automation move finishing into the authoring tools.
Other news
This is the first quarter in which revenue from recently acquired Delcam contributed to Autodesk results; the company described the amount as "immaterial" and did not break it out specifically. "Immaterial" generally means less than 5% of revenue.
Yesterday Autodesk announced two moves related to 3D printing; see our article "Autodesk reveals impatience with 3D printing innovation rate" for details.
Eight more of our custom charts follow. For larger versions, visit our Facebook page.
L. Stephen Wolfe, P.E., a contributing analyst for Jon Peddie Research, provided research for this report.