They told us the move to subscriptions might put a drag on revenue; they were right.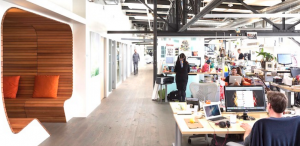 The third quarter did not treat Autodesk (NASDAQ: ADSK) kindly. Revenue was up 2% only when measured in constant currencies; otherwise it was down 3% year-over-year. Subscriptions increased by 80,000 sequentially but deferred revenue fell. Billings fell 4%, and Autodesk reported an operating loss. As it that wasn't enough, a 1% drop in marketing expenses coincided with a 3% drop in revenue.
Autodesk revenue in the third fiscal quarter of 2016 (ended October 31, 2015) was $599.8 million, down 3% from 3Q15 and up 2% on a constant currency basis. Net loss for the quarter was $43.8 million, down from a net profit of $10.7 million a year ago.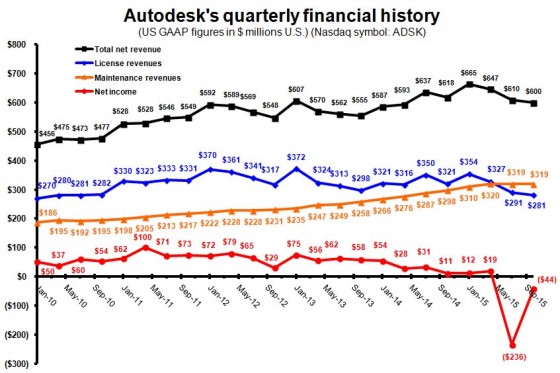 Digging deeper into revenue:
License revenue: $280.9 million, down 12%;
Subscription revenue: $318.9 million, up 7%.
Revenue by industry segments and product lines:
AEC revenue was $225 million, up 4%;
Manufacturing revenue was $175 million, up 3%;
Media & Entertainment revenue was $39 million, down 9%.
Platform  Solutions and Emerging Business revenue was $161 million, down 15%;
Flagship Products revenue was $267 million, down 7%;
Suites revenue was $218 million, down 3%;
New and Adjacent Products revenue was $114 million, up 9%.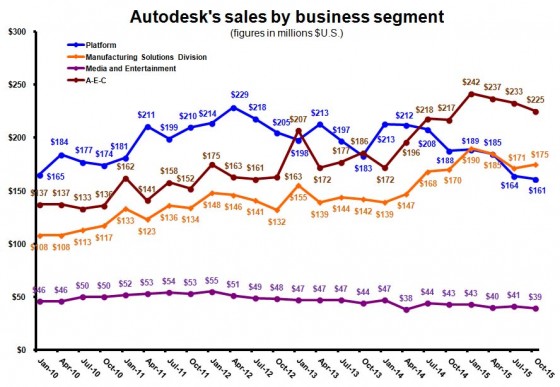 When Autodesk accelerated its transition to subscription revenue earlier this year, Autodesk senior VP Andrew Anagnost said they were seeing increased use of new products from existing customers whose primary purchases in the past were AutoCAD LT. The availability of other products in a suite without upfront purchases was encouraging new product use, he said. This quarter's "New and Adjacent Products" revenue would seem to follow this observation.
Revenue by regions:
Americas revenue: $236 million, up 2%;
EMEA revenue: $225 million, down 5% (but up 2% in constant currencies);
APAC revenue: $139 million, down 7% (down 1% in constant currencies).
Emerging Economies revenue: $88 million, down 8% (down 6% in constant currencies); revenue from Emerging Economies represented 15% of total revenue in the quarter.
Total subscriptions on October 31, 2015 was 2.47 million, up approximately 80,000 from three months earlier. Maintenance subscriptions hit 2.10 million, an increase of 33,000. New model subscriptions (Desktop, enterprise flexible license, and cloud subscription) were 366,000, an increase of 47,000. Autodesk says the increase in new model subscriptions was led by Desktop subscriptions.
Always one to put lipstick on a runty pig, Autodesk CEO Carl Bass commented about the quarter, "We remain confident in our long-term view that our business model transition will deliver a 20% CAGR [Compound Annual Growth Rate] in subscriptions and a 24% CAGR in ARR [Annualized Recurring Revenue] through fiscal year 2020."
Autodesk has one more quarter that includes perpetual licenses, so the next two quarters will be especially interesting to watch.
L. Stephen Wolfe, P.E., a contributing analyst for Jon Peddie Research, provided research and his usual legendary insights for this article.