HTC Vive and Oculus Rift are now supported in Stingray. Maya LT adds more flexibility to bipedal character rigs.
Everybody wants a piece of virtual reality these days. At the Game Developers Conference, now underway in San Francisco, Autodesk is showing off new VR bits and bobs for Stingray, its game engine, and Maya LT, the indie version of the popular digital asset creator.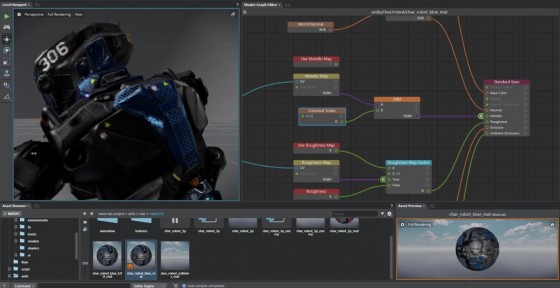 Stingray v1.2 adds support for two VR platforms, the HTC Vive and the Oculus Rift. Because content for virtual reality means working with r-e-a-l-l-y big datasets, Autodesk has added multi-CPU compiling. Other improvements to speed along working with big data include entity support in story, so that the shading environment can be animated with global illumination, fog, and depth of field. There is also support for multiple monitors during development. A new feature, rendered outline highlights, make it easy to find lost objects in large scenes.
Maya LT, the right-sized version of Maya for indie game developers, is getting tweaks to its rigging capabilities. There is automated placement of bipedal character rigs, support (via Autodesk's HumanIK) for up to five roll bones per limb for more flexible model deformations. To smooth the transition to the game engine, selected objects in a viewport can be made into a named set with one click. There is also new click-drag workflow to move quickly through keyframes to find start and end times.
Other new or updated features in Maya LT:  
Improved Modeling and UV Toolsets:

New shape authoring toolset and shape editor as well as blendshape deformer and sculpting enhancements; a robust mesh mirroring command and expanded tool symmetry; a new brush-based Symmetrize UV Tool, multi-object support for Unfold and improved layout and auto-seam features; and poly modeling enhancements.

Updated Game Exporter:

Users can now select objects in the viewport, create a named set with a single click and view it in the game exporter as an object to be exported; click-drag workflow facilitates scrolling through key frames in animations to choose the clip's start and end times.