Rivals Bentley and Trimble are already offering similar products. Construction-based BIM is slowly becoming a reality.
Autodesk today launches new software for creating building models from point cloud data, based on an acquisition of technology from a Colorado company. Autodesk Point Layout gives the company more to work with on the construction side of Building Information Modeling (BIM), an area where rivals Bentley and Trimble are already active.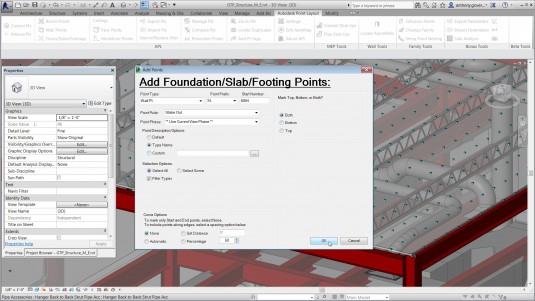 Autodesk used the purchase of technology from Get The Point, LLC as the basis for Autodesk Point Layout, which creates points from BIM and CAD models within Autodesk Revit, Autodesk AutoCAD and Autodesk Navisworks. The point data drives robotic total station hardware, such as Topcon's line of positioning systems and related hand-held devices or tablets, to give contractors and sub-contractors laser-guided pinpoint accuracy for the placement and verification of building elements.
Construction companies are turning to automated methods to streamline the process of turning data into a building and improve accuracy. The result is faster construction, which helps building projects get completed on-time and on-budget. With fewer people on site for less time, such software also helps improve construction site safety.
PCL Construction used a test version of Point Layout. "On a recent project, PCL achieved a 27% reduction in waste, directly attributed to using the technology found in Autodesk Point Layout on concrete foundations," said Nick Kurth, Virtual Construction Manager, PCL Construction. "This is a powerful way to extend our BIM workflow to the construction site, and we expect we can see similar – or better – savings as we use the new Autodesk software on future jobs."
Total stations use a combination of GPS, laser-powered optics, wireless communications and now BIM to verify field placements to precise points on the jobsite for construction elements such as foundation corners and concrete-to-steel framing interfaces. Autodesk Point Layout is also designed to locate hangers used to support complex, pre-assembled duct work and piping in a concrete slab. General contractors can use the software to back-check work from subcontractors as part of their quality control process. Data can also be relayed from the total station back into the model to capture and maintain real-world conditions.
Our take
Ten years ago BIM was the future of construction. But BIM was really only a design tool; engineering and construction were left in the 2D cold. Over the last few years, structural engineering moved to 3D; finally in the last couple of years—with the lower cost of 3D point cloud data—construction is getting a seat at the table. We are still a long ways from ubiquitous use of BIM for end-to-end design to deployment, but it is getting closer.