Autodesk PLM 360 is the first PLM product written from scratch for contemporary cloud technology. Autodesk is betting it will be a hit with companies of all sizes.
[Editor's Note: See also our December 2011 coverage, "Autodesk intends global PLM domination with Nexus." Autodesk has dropped "Nexus" from the product name.]
Autodesk today launched its new product lifecycle management (PLM) initiative today, sending a potentially disruptive shot across the bow of traditional enterprise PLM. Autodesk PLM 360 is a cloud-based alternative to traditional enterprise PLM solutions which are hosted on-site using dedicated servers and support personnel.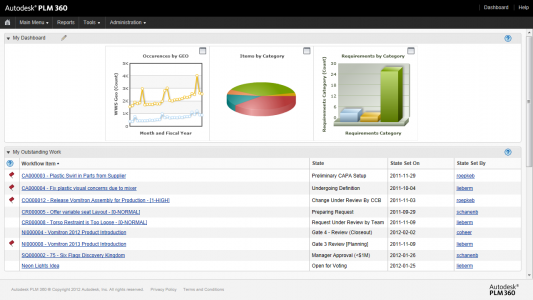 Autodesk says its new PLM solution is deployable in minutes to days, citing the experience of beta testers who have been working with the software for the past few months. "No customer has taken more than three days to deploy Autodesk PLM 360" says Robert "Buzz" Kross, Autodesk senior vice president for manufacturing. Because all users access Autodesk PLM 360 through a browser, the system is accessible from any computing device, mobile or desktop, that connects to the Internet.
Autodesk is offering simplified pricing for its new PLM suite. The first three users in a company are free. After that, each additional user is $75 per month on an annual contract basis. Limited-use licenses are also available for $25/month on an annual contract basis. Autodesk says this price is roughly one-tenth the cost of comparable functionality from competing enterprise PLM providers.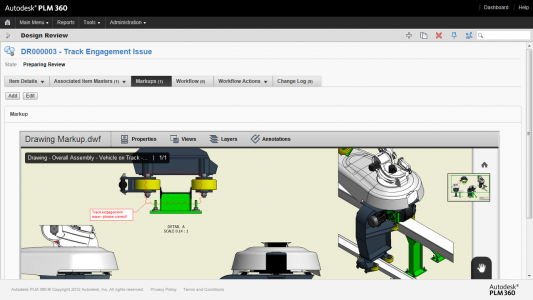 140 apps and counting
Autodesk says 360 is made up of more than 140 apps so far, which can either be used as-is or modified by users. The apps so far fall into ten categories:
Quality
Supplier Management
Engineering
Program Management
Service and Support
Operations
Sales and Marketing
Manufacturing
Executives
IT professionals
Autodesk says all apps are built with intuitive drag-and-drop functionality that customers can either use as-is or quickly modify.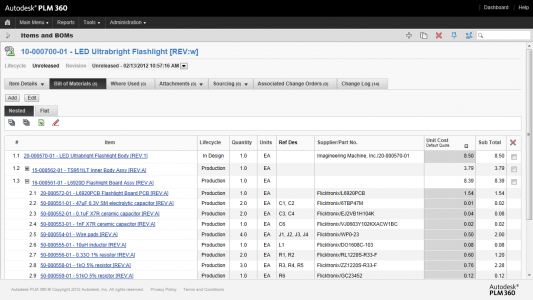 Several Autodesk customers have been testing Autodesk PLM 360 for the past few months. Rob Ferber, CEO at Electron Vault, a clean-tech energy-storage provider, says his company avoided PLM until now. "Given the high costs and expertise associated with traditional PLM, we just didn't want to go there until now. Autodesk's accessibility, rapid deployment and ease of use reduce the complexity of managing PLM processes across our global teams."
Franke Foodservice Systems Inc., a division of Switzerland-based global manufacturer Franke Artemis Group, which employs around 10,500 staff worldwide and is established in over 40 countries, has adopted Autodesk PLM 360 to improve its product management, enhancing collaboration through product conception, realization, deployment and use. "No two restaurant customers are identical, and we have many staff in the field doing surveys of customer sites to customize equipment for a new menu item or coffee system," said Duane Brown, manager, Product Data and CAD Operations, Franke Foodservice Systems. "Having a global, cloud-based application to track every step and all our major product milestones with instant sharing of all field and engineering notes in a secure application is incredible."
Steven Bodner, VP of product development for Autodesk PLM 360, says ease of use goes beyond the user interface and into the very bowels of the product. "This is business applications meet social cloud environments," said Bodner. The data model is designed to give each user their own repository; it is not necessary for users to customize the data model as with competing enterprise systems.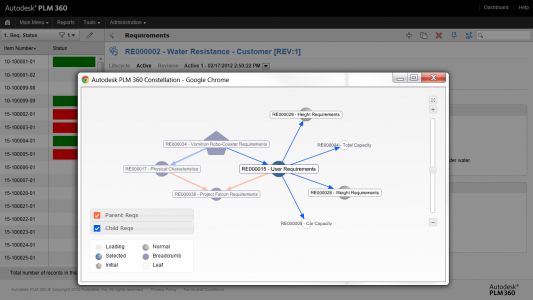 Autodesk makes a clear distinction between PLM and PDM—product data management. Autodesk already sells its Vault PDM product, which now has more than 600,000 users. Vault and Autodesk PLM 360 can work together, but customers are not required to have both. Autodesk says its customers want to continue to store their engineering product data in-house, while taking advantage of 360's cloud technology to share and collaborate externally with suppliers, vendors, etc.  Autodesk says more than half of its Autodesk PLM 360 beta testers are using either no PDM product or a PDM from another vendor.
The apps are key
As we have reported before, Autodesk for years mocked the notion of PLM, saying the only companies who had a PLM problem were the PLM vendors. Autodesk's Kross says about three years ago, more than 20 of its largest customers told Autodesk they were either tired of using existing massive enterprise PLM installations or had avoided them but believed they needed the functionality PLM products are designed to deliver. The difference between mocking PLM in 2006 and selling it in 2012, Kross says, is cloud technology. "Technology is finally ready to support our vision," says Kross. "We waited until we could do it our way."
By delivering PLM as a service, Autodesk spares its users from buying dedicated servers and spending thousand or even millions of dollars on PLM deployment. Autodesk can upgrade the service at any time, most likely without customers ever noticing. With the first three uses free, Autodesk has made it easy for companies to kick the tires and see what the product can do.
We expect Autodesk to brag in a few weeks about how many companies have downloaded Autodesk 360. The promise of scalable, affordable PLM is just too alluring to ignore. It won't be the simplicity or the cloud-based mechanics of Autodesk PLM 360 that make it a hit, however, but the ability of the apps. Only time will tell if Autodesk has done its homework well, as companies of all sizes give it a pilot deployment.