Three 3D content environments was clearly one too many. Autodesk is offering a no-cost transition to either Maya or 3ds Max.
Autodesk today announced the 2015 edition of Softimage will be the last release. Autodesk will start shipping the new version in mid-April 2014, and will offer product support until April 30, 2016.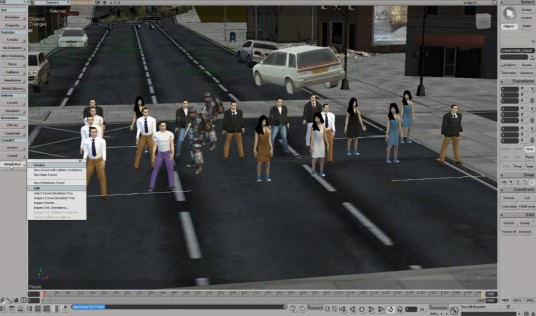 The impending death of Softimage has been the subject of rumor in the content creation community for several months. While popular in Asia, it has run a distant third in global sales to Autodesk's other primary 3D content creation products Maya and 3ds Max.
Softimage was originally released in 2000 by Softimage|XSI, then a subsidiary of Avid Technology. Autodesk acquired the product in 2008. It is best known in the digital content creation industry for its visual programming environment, ICE (Interactive Creative Environment). ICE is a parallel processing application that can harness the power of multi-core CPUs for scalable performance. Recent CG-heavy films that used Softimage in the creative pipeline include Thor, Predators, District 9, and Elysium.
As of March 28, 2014, Autodesk will stop selling Softimage as an individual product, but will ship Softimage 2015 in suites and as a subscription update. For Softimage customers who are currently on subscription, Autodesk will offer no-cost migration paths to either Maya or 3ds Max.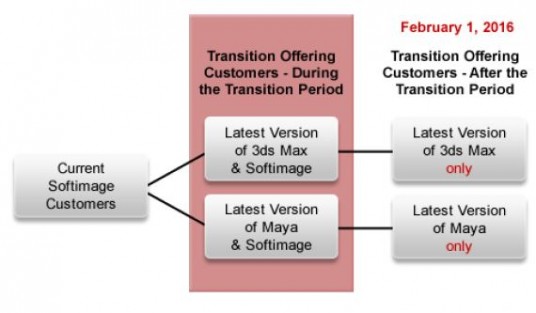 In a statement released today, Autodesk explains its rationale for the move:
"This decision is necessary for Autodesk to keep pace with the industry's rapid rate of change and to better serve our customers during this highly turbulent transitional period for both visual effects and games. We need to innovate faster while balancing our investment in the development of features and functionality needed to support new and existing customer workflows. We did not make this decision lightly. Many factors were taken into consideration during the decision making process, including the impact on the Softimage user base. Although the decision is a difficult one, we do believe that by doing this we can better serve the needs of the industry as a whole and provide customers with better product choices."
Autodesk says ongoing maintenance development (Hot Fixes and Service Packs) will continue for all Softimage customers (Subscription and non-Subscription) for a two-year support period (until April 30, 2016). All customers will be entitled to any Hot Fixes or Service Packs released for their version of software. However, an Autodesk Subscription contract will be required to access any additional customer support services.
More information: http://www.autodesk.com/products/autodesk-softimage/overview
What do we think?
Autodesk Media and Entertainment revenue has been falling for years, but seems to have stabilized in recent quarters. The company has clearly been in transition from making high-priced products for a limited clientele to making full-featured products that appeal to a wider range of professional users. Last summer's introduction of Maya LT, a custom version of Maya for Indie and mobile game developers, represents the future for Autodesk. Having three full-featured 3D content creation products was an artifact of the past, and was clearly one 3D environment too many. Maya has the leadership in film and games, while 3ds Max has a strong user base in both animation and product development/architecture. When push came to shove, Softimage was the loser.