Horizontal Glue is web technology to allow use of BIM data from competing products. We believe existing users have nothing to fear.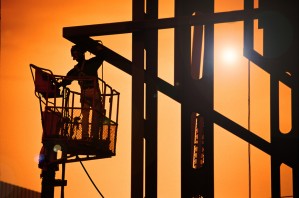 Autodesk has agreed to acquire Horizontal Systems, a provider of cloud-based building information modeling (BIM) collaboration solutions. The deal is expected to close before the end of Autodesk's fourth quarter of fiscal 2012, which ends Jan. 31, 2012. Terms of the transaction were not disclosed, which means the price is low enough to fly under the radar of SEC disclosure rules regarding "material transactions."
Horizontal Systems technology will be an important contributor to the Autodesk 360 for BIM vision for collaboration, data and lifecycle management, which was announced yesterday at Autodesk University.  Autodesk says the new technology will help accelerate the movement of BIM to the cloud by providing users with the ability to more easily access and coordinate multi-discipline project data on a where-needed and when-needed basis.
The main product and technology being acquired is Horizontal Glue, web-based technology which manages the exchange of a variety of BIM data types to eliminate compatibility issues between competing BIM products. In a product description written well before the acquisition, Horizontal Systems described Glue as "the only base technology where model analysis such as clash detection, estimates, scheduling, and RFIs can all occur within the same live model on the web."
Some of the leading names in AEC are current Horizontal customers, including HOK, SOM, KieranTimberlake, and Walsh Construction. Autodesk says it will fully support existing contracts and users through the transition.
Autodesk intends to integrate Horizontal Systems solutions into its Autodesk 360 for BIM solution. During the transition, Autodesk says it will continue to fully support existing Horizontal Systems customers.
Why buy Glue?
It is deals like this that reminds us just how much Autodesk is the true 800 lb. gorilla in AEC, and everybody else plays by the rules Autodesk sets down.
Horizontal Glue was created to ease a significant pain point, the lack of interoperability in BIM. IFC is the standards-based, committee-built system for BIM interoperability but it gets as much respect as an Ubuntu user at a Microsoft party. By buying Horizonal Systems and bringing Glue in-house, Autodesk again raises the bar for what it can accomplish as the true standard-bearer for BIM. This deal feels like the Autodesk acquisition of Navisworks. There were initial fears Autodesk would rein in what uses loved about Navisworks, its ability to visualize BIM data from a variety of sources. Navisworks today is as open as ever, and Autodesk will undoubtedly keep Glue open as well. Any other path makes no sense.