The more you can see the more you can do—Apple proves the point with two giant monitors driven by a MacBook.
By Jon Peddie
The new Macs are shipping and the people who have bought have a chance to see what the new Thunderbolt technology can do for displays. If you are one of the fortunate ones to have a Thunderbolt-enabled Mac you can connect it to an Apple Thunderbolt Display for a panoramic viewing experience, and it can daisy chain to another Thunderbolt Display.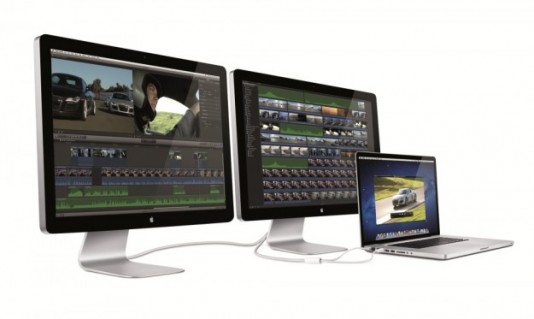 These 27-inch glossy widescreen displays features a cinematic 16:9 aspect ratio with 2560×1440 resolution, a little less than an Apple 30-inch Cinema Display, but impressive nonetheless.
As we have been writing in TechWatch, there are significant advantages to LED backlighting. The displays come on immediately and reach maximum brightness immediately—no warm-up time. LED backlighting also gives you greater control over screen brightness.
Wide angle viewing
The display has an unusual 178-degree horizontal viewing range so you can see it from anywhere. Apple specs the brightness at 375 cd/m2 and a 1000:1 contrast ratio.
The new displays come with a Thunderbolt port, plus three powered USB 2.0 ports, a FireWire 800, and one Gigabit Ethernet port. The new displays connect to the Thunderbolt hosts, MacBook Pro or Air, Mac Mini, or iMac, through a single Thunderbolt cable. The Thunderbolt port supports up to five more Thunderbolt devices including disk drives.
The display also has Apple's FaceTime HD camera—an upgrade from the earlier iSight camera – and a 2.1 speaker system with 49 watts of power. There's also an ambient light sensor that will adjust display brightness based on the level of lighting in its surrounding environment.
Apple has just introduced its latest Mac OS X, Lion (the company seems to like big cats). Thunderbolt Display will sell for $999 when it becomes available in "the next 60 days." However, it will work with any MacBook that has Thunderbolt so you don't have to spend $29.99 more for an upgrade to Mac OS X Lion to use it.
Jon Peddie is CEO of Jon Peddie Research.