No other company in Engineering Software has a similar record of uninterrupted revenue growth in recent years.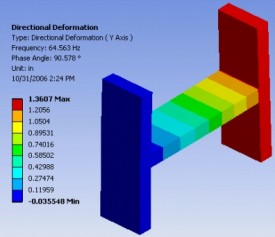 At the end of the third quarter of 2012—a record third quarter—Ansys CEO Jim Cashman warned Wall Street that his company saw a bumpy fourth quarter coming up. Today's report is anything but bumpy, as Ansys (NASDAQ: ANSS) turned in yet another quarter of solid growth, setting records for both fourth quarter and full year revenue. Revenue in the fourth quarter of 2012 (ending December 31, 2012) was $220.7 million, up 11% from a year ago. Full year revenue in 2012 was $798 million, up 15% from 2011.
Net income in the fourth quarter was $56.1 million, up 18%; full year net income was $203.5 million, up 12.6%.
Ansys stock held steady on today's news, at 75.80. In the last 12 months Ansys stock has gained $12.  In constant currencies, Ansys achieved 12% growth in revenue in the fourth quarter, 17% for the year.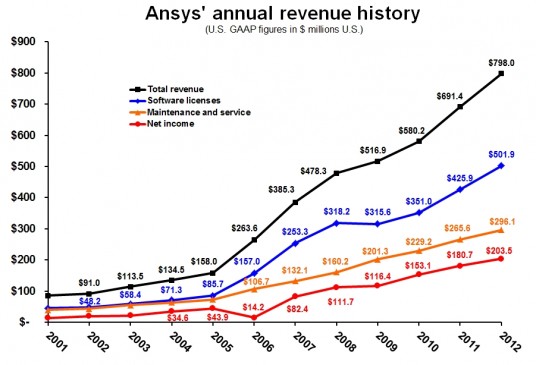 Breaking down revenue further:
Fourth quarter software licenses: $141.9 million, up 10.7%
Fourth quarter maintenance/service: $78.8 million, up 12.4%
Full year software licenses: $501.8 million, up 17%
Full year maintenance/service: $296.1 million, up 11.5%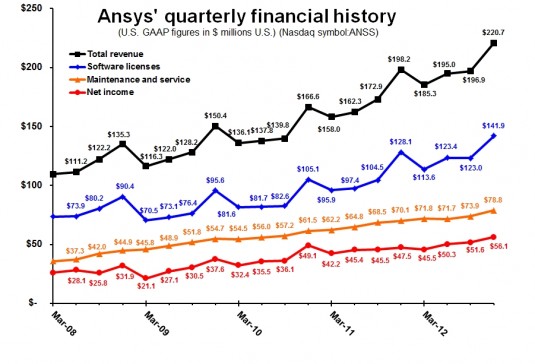 Fourth quarter revenue by regions:
Americas: $74.2 million, was $70.5, up 5.2%
Europe: $75.5 million, was $67.4, up 12%
Rest of World: $74.8 million, was $65 million, up 15%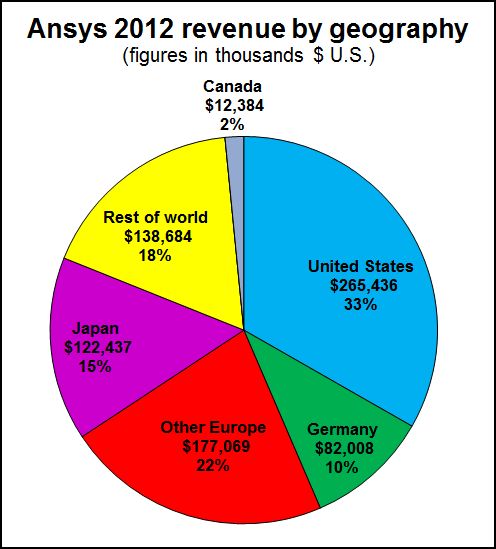 Looking ahead, Ansys continues to worry about the impact of currency fluctuations as well as the continued general malaise of the global economy. In projecting 2013 revenues, Cashman said the company was especially concerned about changes to the Japanese Yen and British Pound. Ansys is predicting 2013 revenue in the range of $800 million to $905 million.
Cashman credited strong customer response to the latest release of Ansys Workbench for the strong results. Version 14.5 includes a new parametric high-performance HPC module, making design exploration more scalable. Automotive remains a strong market for Ansys, which Cashman said seems to be increasing R&D spending across the board.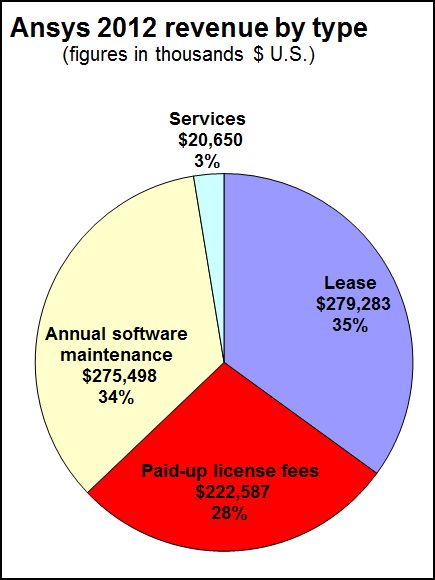 Over the past 11 years Ansys revenue has grown 10x, fueled by regular large acquisitions that provided both new technology and new revenue streams. The most recent acquisition, Esterel, is opening doors to mechatronic simulation in the Ansys multi-physics simulation environment, and is still in the early days of integration with the existing portfolio.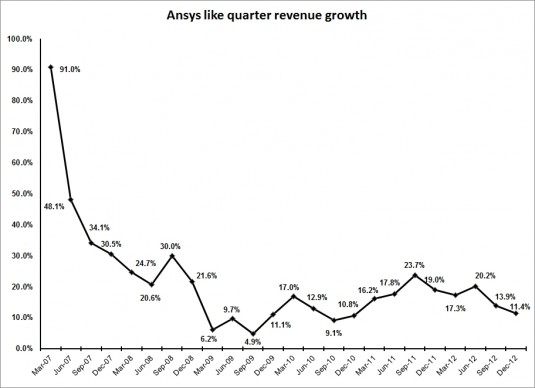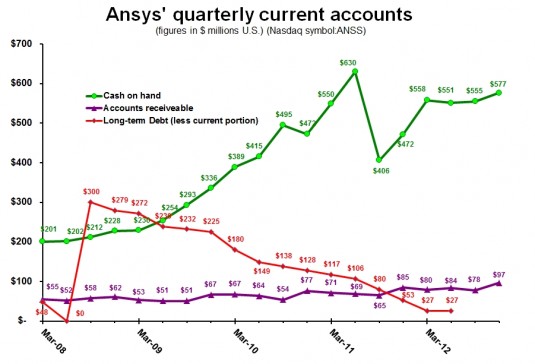 Cash per share on December 31, 2012 was $6.23, up 23 cents from three months ago and continuing a rising trend.
For larger versions of our custom charts, visit our Facebook page.
L. Stephen Wolfe, P.E., a contributing analyst for Jon Peddie Research, provided research for this report.