Free app for users of Apple phones and tablets running the latest version of iOS.
As promised for Fall 2017, PTC Vuforia has announced Vuforia Chalk, a videoconferencing app, that lets a person tech help another person using their smartphone's camera.
Vuforia has been making AR software long before any tech giant started seeing the potential of the AR technology. PTC acquired Qualcomm's subsidiary Vuforia in 2015, at a stage when PTC was building its IoT business.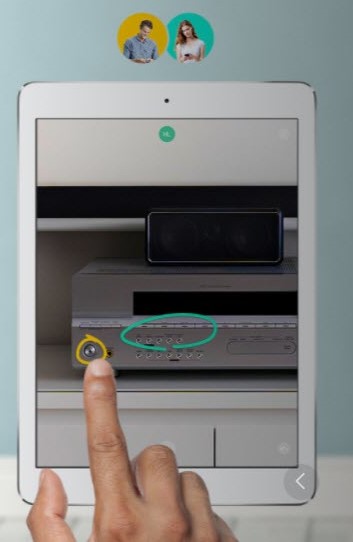 Through Vuforia Chalk, PTC has provided an augmented reality app that uses Apple's ARKit and offers remote assistance. The people on both ends of a conversation share a live view of the same environment and can annotate with digital chalk. For example, a person draws chalk marks on their own device and it appears on the screen of the recipient's screen. The chalk marks stick to the view where user puts them, thanks to Apple's ARKit technology. As Chalk includes audio also, people can talk about the problem and the annotations. This helps solve the problem efficiently.
Vuforia Chalk is available to iPhone and iPad users for free. However, it requires an iPhone 6s or later, an iPad Pro from 2015 or later (including the 5th Generation of the iPad), and all devices must run iOS 11. It is expected to be available for additional handheld and head-mounted devices supported by the Vuforia AR platform.
For more information about Vuforia Chalk, visit https://chalk.vuforia.com/.