The recent Adobe Max conference drew 6,000 Creatives who are rapidly moving from buyers to subscribers.
By Kathleen Maher
Adobe Max is a celebration—our creative heritage, says CEO Shantanu Narayen—and it is a lush affair in every sense of the word. For starters, the company produces an opening multimedia extravaganza that people would probably happily pay to see. There is an almost-adequate video on Behance. It's the sort of thing that should make any­one think, boy, what would it be like to make something like that? And, it played to an enthusiastic audience who reacted positively to Adobe's lineup of new products and features. Adobe said a record 6,000 people registered for Adobe Max this year.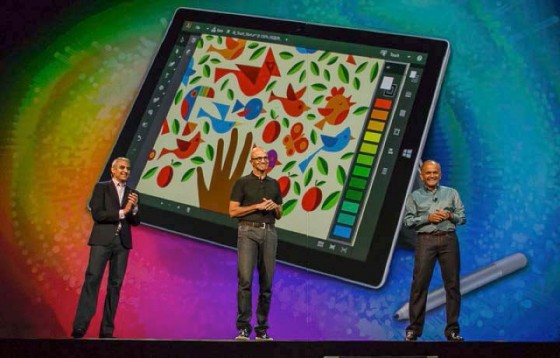 This year the company says they have successfully made the transition from their old business model—that of pack­aged products—to subscriptions, which has allowed the company to roll out new updates and improvements faster. David Wadhwani, Adobe's SVP and GM for digital media, told attendees at the company's investor meeting held during Max that Adobe's transition to subscriptions coupled with their new digital marketing services has increased penetration for Adobe into the enterprise and has increased the company's TAM. An important metric for the company, and a surprising num­ber for us, is that 37% of the people who have adopted the Creative Cloud products are new, and they say they have done so because of the subscrip­tion offerings. There seems to be a class of consumers emerging who are com­fortable with subscriptions, and Adobe seems pretty happy with the 2.3 million they have. The company is seeing solid and steady double-digit growth rates of adoption but of course that is not the whole story. The company's revenue stream remains uneven.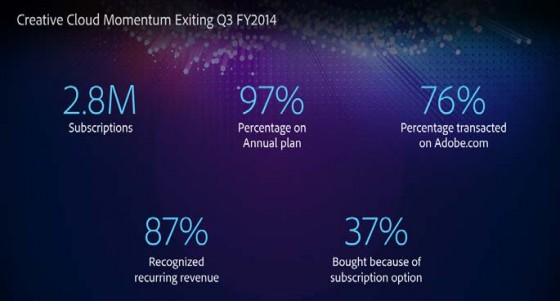 Mobile
A major theme for this year's Max was mobile, and as Shantanu Narayen told investors, the company did not even talk that much about the individual desktop products in the Max keynotes, because mobile is a part of the whole. Adobe is pushing a new level of integra­tion. Some of the company's previous mobile products have been dead ends in that they didn't integrate smoothly with the company's desktop products. For years, Adobe, like its competitors, has viewed mobile apps askance; those low prices have been giving companies the heeby-jeebies, but Adobe had an awak­ening and decided to embrace mobile just as it has embraced subscription and cloud models.
The new mobile SDK, which was of­ficially rolled out to developers at Max, has been developed from actual fea­tures in Adobe products, especially from Photoshop, Illustrator, and Premiere, and is free to developers. The energetic Scott Belsky, former CEO of Behance, is now leading the mobile push, and he promised more features to come for the SDK from more Adobe products. Adobe is very excited about the potential for the new mobile apps to introduce an en­tirely new batch of potential customers to the Creative Cloud.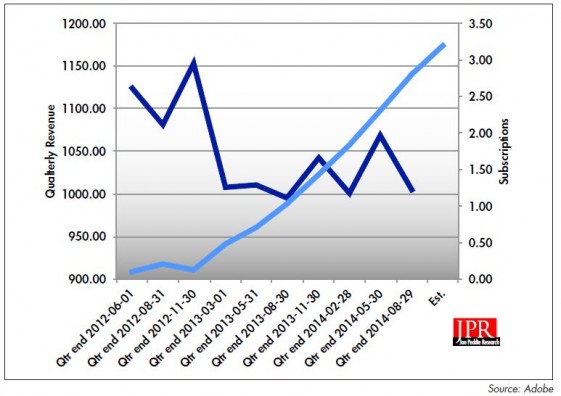 Touch
Slightly sideways to the mobile tra­jectory, Adobe also has a major focus on touch on the PC. What is focus­ing Adobe's attention with mobile and touch is that these technologies are bringing users closer to more natural interfaces—the ability to draw, move objects, turn controls. On this front, Adobe has teamed with Microsoft to make its flagship products more touch-friendly.
As everyone knows, Apple's PCs have yet to incorporate touch. Apple owns a healthy majority of the creative professional market. Even within Adobe, you are going to see a lot of Mac notebooks being carried around the halls. Demos are almost always per­formed using Macs.
However, Narayen isn't interested in letting the millions of people who use Windows-based machines slip through his fingers, and the people who work for him know that very well. At this year's Max, Microsoft CEO Satya Nadella came on stage and made a whole bunch of new friends when he announced that all attendees would be getting brand-new Surface Pro 3 machines. Almost immediately, excited Adobe customers were running around the L.A. Con­vention center clutching purple Sur­face machines to their breasts or lug­ging giant white shopping bags embla­zoned with the Surface logo. On the show floor, kindly Microsoft employees helped newbies set up their new Sur­ face Pro machines and provided tips on navigating a new interface. That kindly instruction, by the way, includ­ed helping people create a Microsoft login for their brand-new machines. So, now Microsoft has set the hook into around 6,000 or so customers and can now try to seduce them further into the Microsoft side of the world.
As we visited with people playing with their new Macs, we encountered some who were a little mystified by the interface, but they seemed to enjoy it, perhaps because they were not so en­raged by changes in the "old" Windows interface, or perhaps we were just talk­ing to more mellow people. We also ran into many bi-users who are comfort­able using Macs and PCs. Often, they
work at home on one format and at work at another. Some are creating con­tent for multiple platforms, and others need Macs for some things and PCs for others.
The SDK signals a changing world
In his introduction of the new prod­ucts and technologies coming from Adobe, Narayen said that the mobile platform is becoming important as a content creation platform. He notes that the iPhone6 is now powerful enough to run Photoshop.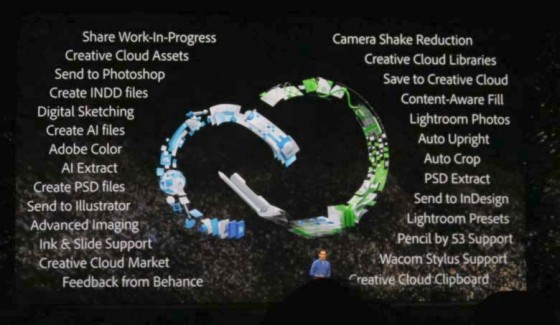 "Tablets are not just content con­sumption devices," he said and prom­ised Adobe would step up to help make the spectrum of tablets available today useful as creativity tools. Adobe is forg­ing an integrated ecosystem for its cus­tomers. The SDK is now a part of Adobe's development pipeline, and it has influenced the way looks at plat­forms and products.
As Adobe's developers look at fea­tures that have been built into its prod­ucts over the years, they are seeing these tools in a new context and they are looking at them separately from their host application. The most obvious ex­ample where this is playing out is in the new features introduced for touch for Microsoft tablets. The teams from Adobe and Microsoft did not work di­rectly with Adobe's SDK in this case, but they did take a similar approach and they were able to redefine aspects of the interface separately from applications like Photoshop, Illustrator, and Premiere in order to let people perform common tasks using touch or a pressure-sensi­tive stylus. My total favorite was the soon-to-come feature called Playground, which lets you see how layers are used by just swiping your finger across the image, and layers can be picked up and moved with the flick of a finger. This is a lifesaver for teams who otherwise waste time figuring out how colleagues have arranged their work. Tears of grat­itude were shed, which doesn't happen all that often around Microsoft.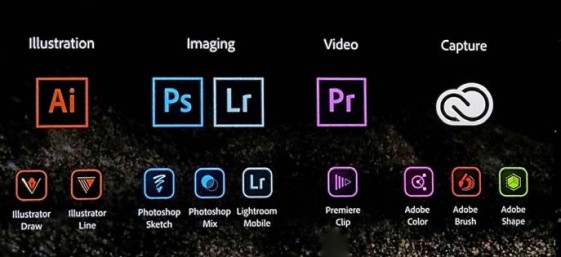 Getting personal
One of the other major goals of this year's Max was an effort to get custom­ers who have signed up for the cloud to work more actively with it. Obviously, Adobe needs to keep its base commit­ted to its little neighborhood of ap­plications and lifestyle. At Max this year, the company introduced personal profiles for people. It's an extension of the work Adobe has already done with Creative Cloud, giving people a place to keep their work and share it with other people. Now, Adobe has taken it further so that all the work that has been done goes with a person. So, for instance, if you work on a job in Illustrator, you can access that job complete with the fonts used, the color palettes, layers, etc., from another machine or device. And the work can be shared with other people so people working together on a project, provided they are Creative Cloud subscribers, can work with the same files and they don't have to go looking for the fonts, brushes, and other elements. Previously, Adobe's photo management tool Lightroom has been sent to mobile and to the cloud as a connector for photos; now those photos are present as part of the users' profiles.
The difference between Adobe's new mobile apps and the old ones is that the new ones are built around the Creative Profiles feature and designed to let users slide easily from platform to platform. The idea is that you can start a proj­ect on one platform and finish it up on another. Right now, that translates to "some" platforms because the apps are on the iOS platform, but the company has clearly communicated its plans to smooth the paths to Android devices and computers. The improved touch in­terface for Windows-based tablets is an example of what they're going for. Scott Belsky notes that the apps so far "have silo'd our creativity," forcing users to work on specific apps and specific ma­chines, but, he says "creativity doesn't like boxes."
New mobile apps
Leading up to this, Max Adobe has been creating its own apps with the SDK to demonstrate what can be done. The first example was Adobe Voice, a cute little app that lets people create quick little stories using art and photos grabbed from the Creative Cloud (and now from Personal Profiles). With the introduction of the Ink and Slide pen and ruler set, Adobe also introduced new drawing tools including Sketch and an updated Ideas app now called Illus­trator Draw. Like ideas, it is a vector drawing tool, which makes it a logical companion to Illustrator. Brush is a fast little shortcut app for creation brushes. Take a picture of an ink splatter and turn it into a brush, take a picture of your kid and make a brush that strings his cute little face like a row of balloons. Another new tool introduced at Max is Color, which is based on the older Kuler app. It lets you grab a shot of a scene or an image with your iOS camera and save the colors to your Profile in the Creative Cloud where it can be accessed by any app. Even more fun, Shape lets you take a picture of anything, and it vectorizes it so you can use that shape in Illustrator. Demos suggested grabbing a complex piece of calligraphy that can then be turned into a vector image and used in sign-making (Corel isn't going to like that one, one bit.)
Photoshop Mix was another early app from Adobe, and it included powerful selection tools and editing tools including content-aware retouching. It was cool, but it was limited. As orig­inally designed, it primarily worked within the confines of the tablet and created small images. Images could be transferred to Photoshop on the com­puter, but they were tablet-quality im­ages. Now Mix supports 24-megapixel images. The idea, says Adobe, is to use the tablet or the phone for the tasks it's good for and the desktop where it is needed.
Finally, throughout all this it might seem that Premiere has been left out of the party, and it has been behind the rest of the Adobe desktop applications making its way to the tablet. At Max this year, Premiere also had a new app to show off called Premiere Clips. This is a friendly little app that lets you make instant videos using touch to move the clips around, or shorten them, add titles and music, and it even has simple, but powerful color correction tools derived from Adobe's SpeedGrade technology.
More to come
Adobe is probably not the company building the most important apps for its products. The world of app develop­ers has just been enlisted as a power­ful force for team Adobe. We saw two dynamite apps, from third-party de­velopers including an industrial design tool called Concepts, which is going to change the way many designers work with their CAD tools, and Flipboard, which can be used as an instant presentation maker, or magazine maker, or perhaps even an app prototype because it enables users to grab content (from your Creative Profiles or anywhere else) and combine them with animation, text, music, to tell a story. These are just two; there is a wealth of these new apps com­ing that now have access to sophisticat­ed features from Adobe.
Adobe has taken a strong in­terest in hardware, but its big news introduction from last year, Ink and Slide, stayed in the back­ground. One of the reasons is because these tools are designed for later model iPads and this year's Max was about all devices, but they were important tools for many of the apps, which are com­ing out at first on the iOS plat­form.
Michael Gough, VP of expe­rience design at Adobe, has said that the work Adobe does in hard­ware helps it deliver better soft­ware. A convincing case in point is the work Adobe has done with Microsoft to improve the way its products will work with Touch. In fact, one of our favorite new apps at the show wasn't created with the SDK at all. Animal was devel­oped as an experimental toy by the Adobe and Microsoft engineers to explore what the two companies could do together, and it's a clever tool that lets you use a drawing object you've created like a tea­pot, or a robot, or a creature, and animate it by linking it to the com­puter's video so that it moves and talks according to the linked video feed. We've seen these apps before, cute tools that do facial mapping and are envi­sioned for use with games or Facebook, but here again, the advantage is that this little toy links to professional tools and people's personal library of creative content. Again, it's personal.
Another example is the work Adobe has done over the past year to make 3D printing easier. The company has forged a direct relationship with Stratasys and its MakerBot tool that enables one-click printing, but Adobe's tools to inspect models and look for holes and prob­lems and then heal them can be used with any printer by exporting to the ap­propriate formats including IGES, PLY, STL, U3D, and VRML.
Enhanced Behance
The company is also trying to get more people to interact through Be­hance, to share their work and to com­municate with each other. Adobe sees it as a job site, an inspiration tool, train­ing center, and social media hub. Adobe Marketplace allows people to put them­selves out there, show their work, and for companies to contact them to hire them. In a talk with analysts, Belsky said he sees the potential for Behance also becoming a place where artwork might be sold, but Adobe isn't ready to wade into those waters yet. That's an­other layer of infrastructure that may or may not be appropriate for Adobe to manage.
Belsky is a fierce advocate for creative people. His vision for Behance is to create an open community where people's talents are on display and they can be hired on the basis of their skills or their ability to work with agencies. He uses the word meritocracy a lot, but Belsky is also about reducing the com­plexity of business relationships in the creative market. Belsky is not a big fan of the agency model in which artists are hidden away from the client and are used as a commodity. His fairly subver­sive idea is to bring the creatives togeth­er with their clients so they can work our their own deals.
Behance also represents a rich pool of potential Creative Cloud subscribers. Belsky says there are now 4 million Be­hance subscribers. Given that Adobe ex­pects to close out its fiscal year with 3.3 million Creative Cloud subscribers, an impressive number of Behance subscrib­ers are not yet using the Creative Cloud.
What do we think?
An analyst at one of the many events at Adobe Max said he was getting tired of Adobe's constant use of the designation Creatives to describe its customer base. That's easy to understand—it will get to you. But the term is loaded for Adobe's customer base—people working in film and video, adver­tising, and marketing content cre­ation. Content creators working in those fields often hear the term creative used as an adjective or a noun, and it's not really as comple­mentary as it might seem. They're the creative talent, or sometimes just the talent. It's a nice name that makes people anonymous. The de­sire is to keep the talent paid regu­larly and hidden behind the scenes so they're almost interchangeable. Adobe's strategy is to elevate their customers, their community to star status.
The company is doing similar things with publishing, and as it builds its Marketing Cloud tools, it seems clear the company is also putting in the scaffolding for link­ing its Marketing Cloud custom­ers with its own pool of Creative Cloud people.
Adobe is willing to take a very hard look at its sacred cows and figure out how to serve them up to the masses. That's true in the way the company is giving its technology away in the SDK and the way it is leveraging its custom­ers. Clearly Adobe now considers its base of customers as much a part of its product as it does the imaging capabili­ties of Photoshop, the drawing skills of illustrator, or the video editing of Pre­miere. And, even though Adobe is feed­ing off its customers, it sincerely wants to make them more successful because then everyone makes more money.