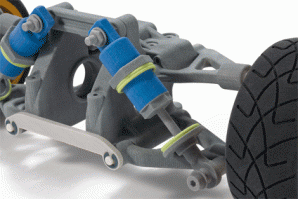 An aggressive year of acquisitions and strong demand for existing products fueled growth.
3D Systems Corporation (NYSE: DDD) saw revenue increase by 44% in 2011, compared with the previous year. The year was busy with acquisitions, which were responsible for much of the growth. Revenue in the fourth quarter was also strong. The stock price jumped 17% to 24.57 on the news.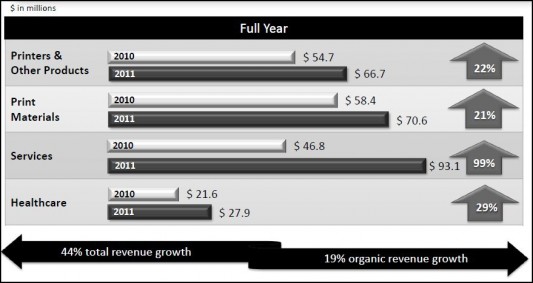 For the fourth quarter (ending December 31, 2011), total revenue was $69.9 million, up 35% from 4Q10. Printer units sold grew by 190%, but accounted for only a $0.5 million revenue increase as a result of the company's continued mix shift towards its lower price personal, professional and production printers. Print materials revenue grew 21% to an all-time quarterly record of $20.2 million, benefitting from the cumulative impact of so many new printers sold. Services revenue for the quarter almost doubled year-over-year to $27.9 million, and included $18.7 million of on-demand parts revenue.
Net income for the fourth quarter was $8 million, down 14% from $9.4 million in 4Q10.
Revenue for all of 2011 was up 44% to $230.4 million. Printer units grew 242% for the year resulting in record printer revenue and units shipped.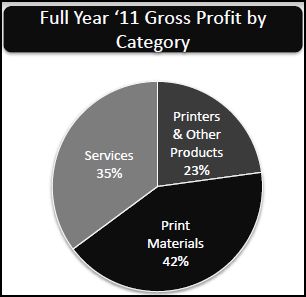 Net income for all of 2011 was $35.4 million, up 80% from $19.6 million in 2010.
3D Systems says it expects 2012 revenue to be in the range of $330 million to $360 million.
Cash per share on December 31, 2011 was $3.54, more than double what it was a year earlier.