Collaborative workspaces are the new frontier for CAD. 3D Systems now has all the fundamental pieces for its fifth growth initiative.
3D Systems has acquired TeamPlatform, a cloud-based, collaborative design and project management platform. 3D Systems plans to immediately integrate the TeamPlatform technology into both its professional and consumer offerings, including Geomagic Solutions and Cubify.com.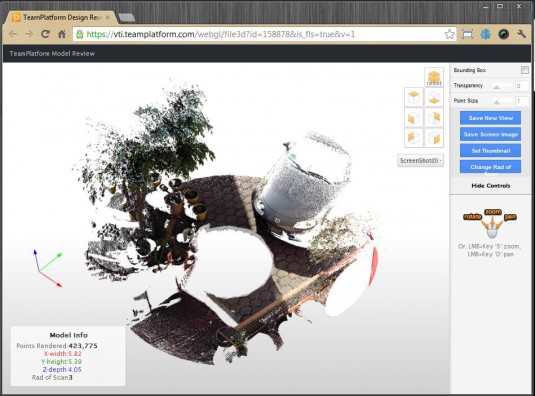 TeamPlatform allows product design, engineering services and manufacturing companies to manage hundreds of small or large projects with masses of data being shared and used concurrently.  It provides task management tools, project meta-data structuring capabilities, and reusable workspace templates for collaboration.
TeamPlatform runs as a cloud-based service using the Amazon platform. One pre-acquisition customer was Rapidform, the 3D scanning software specialist acquired by 3D Systems in 2012.
The service is a private platform, says Scott Anderson, business development manager at TeamPlatform. Companies using the service can brand the collaboration space with their own information. Users can integrate their spreadsheets, drawings, 3D models, and other files, and use built-in tools for posting tasks, notes, and messages. "It is easier to get started in TeamProject than in Microsoft Project or other well-known project data management programs," claims Anderson.
The services supports IGES, Inventor, IFC, DXF, DWG, PDF, Excel, Word, PowerPoint, IFC, point cloud scan data, AVI, MP4, and JPG file formats. Users view, navigate, and annotate 3D models, as well as view see-throughs. The IFC visualizations (an AEC data standard), come into TeamPlatform with full data and custom properties.
Our take
Feature for feature, the nearest rival to TeamPlatform is GrabCAD, which has the advantage of its newest partner Autodesk, who supplies Fusion 360, an online 3D modeler, to GrabCAD Workbench users. TeamPlatform currently has GrabCAD beat with its wide support for non-CAD formats and work processes.
Collaborative workspaces are the new frontier for CAD. The new generation of engineers, architects, and designers want their design tools to work the way the rest of their technology does. Everything needs to be sharable at any stage in the process; anything less is more than an annoyance, it is a barrier to productivity.
When 3D Systems bought Rapidform and Geomagic in rapid succession in 2012, company CEO Avi Reichental said 3D Systems was launching a fifth growth initiative, to create a "seamless digital design, scan, and print platform" to "democratize and deliver integrated 3D content-to-print solutions."  3D Systems now had CAD tools (from its Alibre purchase in 2011), scan and 3D print tools from Geomagic and Rapidform; but it still didn't have the platform. Buying TeamPlatform gives them all three parts of their fifth initiative.