Make models of your favorite things, including your head.
The Emerging Technologies section of Siggraph this year looked like a mini-Maker Faire. The theme seemed to be 3D printing and DIY. Actually, every year is kind of a Maker's Fair at the Emerging Technologies exhibit.

One of the stands that caught our eye was ShapeShot, an Owings Mills, Maryland distributor and developer of 3D scanning systems. Imagine using digital cameras to take three dimensional "snapshots" of your friends and family. Just point and click, like you do with your camera today, and get amazing face images in 3D with high-resolution color!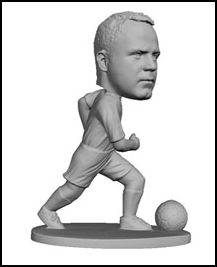 Four off-the-shelf digital cameras are used to capture your image. These images are then combined using proprietary programmatic software to create an accurate three-dimensional model of your face (with textures).
The company is currently using O3D (a free Google plug-in for some browsers) and has a WebGL version ready to go shortly (within weeks) for those browsers that support it. WebGL is part of those browsers and therefore free. It will be great when WebGL grows—even Grandma will be able to see the faces in 3D. ShapeShot CEO Michael Raphael is bullish on WebGL and thinks it will drive the need for 3D content (such as faces) for so many new apps and web experiences—especially on mobiles and tablets.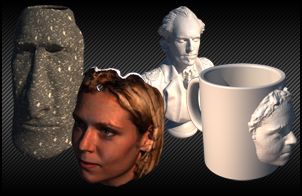 GPU-compute (via Nvidia's CUDA) is in the works also and will improve the processing speed following camera capture. Although the company is looking for ideas for applications that can use the technology, it has a long list that grows every day. Raphael says their goal is to establish a platform for others to develop these apps around the faces and offer products (physical and digital) to the consumers.
"For example," says Raphael, "I'd love to get them into Autodesk's new 123D Sculpt tool for the iPad, which is pretty awesome. You could sculpt them into awesome gifts and get them 3D printed for family members. How cool is that?"
Autodesk has a competing technology in preview at Autodesk Labs called Project Photofly. Instead of using special hardware, it cranks out the 3D view from a set of 2D photos of the object taken from various angles. No doubt there will be other approaches coming out Real Soon Now; 3D images from Kinect, anyone?