The leading online resellers couldn't keep it in stock. The rise of tablets and smartphones work in its favor.
The fairy dust is settling from this holiday sales cycle, and there is a surprise best seller in the computer notebook category. It defies conventional wisdom to say it, but preliminary indications show the Samsung Chromebook was flying off shelves both real and virtual faster than any other device with a keyboard—and most of the devices without one.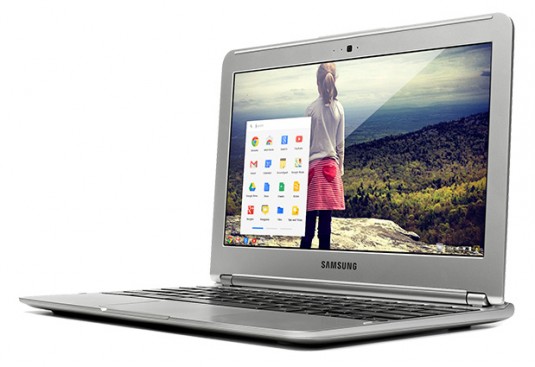 Amazon.com was out of stock more than a week before Christmas, and it was selling the device at $79 above its suggested retail price of $249. Best Buy retail outlets were out of stock by December 20, and their online warehouse reported new arrivals would be available "late January" which means the supply pipeline is empty. MacMall is also reporting the next availability for the Samsung Chromebook as late January and is limiting advance orders to one per customer.
Today the Samsung Chromebook is listed as the top seller in Amazon's "Computers and Accessories > Notebooks" category, and has been in the top 100 for 79 days. In the broader "Computers and Accessories" category it is currently at number 2; the Samsung Galaxy Tab 2 was number 1.
If you aren't familiar, Chromebook is a device specification by Google currently being manufactured by Samsung and Acer. It runs Google's Chrome operating system—not to be confused with Google's Chrome web browser which runs on a variety of platforms. The Samsung model in particular was a hot seller. It boots in less than 10 seconds, weighs the same as an 11" MacBook Air, has no hard drive or optical drive, yet comes across as a pretty good set of compromises when prices and features are compared with both Mac and Windows notebook computers. The Acer model, although less expensive at $199, has lower battery life and a hard drive. Both come with 100 GB of Google Drives cloud storage free for the first year and 12 free Gogo in-air Internet passes, good for two years. Some online sources still have the Acer model in stock.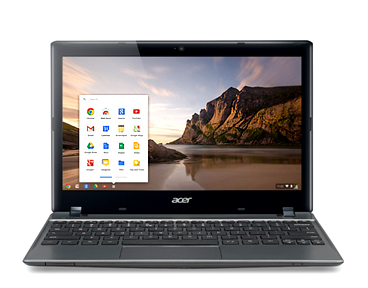 Our take
Tablets were the glamour story in computers this holiday season, with Apple, Google, and Amazon the leaders in what has become a fiercely competitive market. (Microsoft was a competitor too, but sales have been characterized by Redmond as "modest" which means get out your magnifying glass to read the numbers.) The exploding tablet market has prompted many potential buyers to think about the purpose of a second or third computing device; for many people such a line of thinking ends with five magic words: "But I need a keyboard." At that point Chromebook went from a "huh?" to a "Honey, look at this one."
Google is promoting the Samsung model to libraries and schools for $99, and quite a few seem to be taking them up on the offer. Many are pronouncing the netbook as dead, but perhaps it only the Windows-based netbook, with a hardware-bloating list of specifications, headed to the dustbin of history. Not all portable computing is about consuming media; the keyboard still has a role to play. The success of Google Chromebook is more about a post-Windows computing environment than a post-keyboard one.